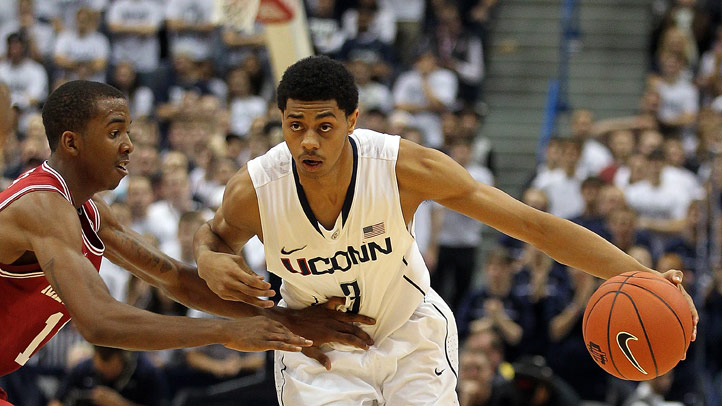 In terms of physical skills, there was no comparison between No. 9 UConn and No. 24 Harvard: the Huskies are stacked. But when it comes to experience and chemistry, the Crimson have the advantage. But that's what makes basketball great: it requires both mental and physical toughness, and one without the other isn't enough to win consistently.

Coming into Thursday night's game, coach Jim Calhoun's biggest concern was that while the Huskies were plenty athletic, they hadn't yet come together as a team. That takes time and while UConn might be long on talent they're short on experience.

Harvard, meanwhile, started two seniors and three juniors. To mix sports metaphors: This ain't their first rodeo.

"They're very good because they are mentally tough," Calhoun said of Harvard. "They run their stuff as well anybody in the country. … We haven't quite connected yet and when we get into the meat of our schedule, we're going to have to be connected."

Still, it was enough. UConn may not have been connected, but they did enough to win, 67-53. Two of the Huskies most talented players led the way; Jeremy Lamb scored 18 points and freshman Andre Drummond added 12 more on 6-of-7 shooting (more precisely: five dunks).

And that's the type of performance Calhoun is looking for from his big man. "I liked Andre's scores tonight: [five] dunks, 12 points," he said. "That's one of the best stats we've had all year. We don't want finesse. When you're as big and strong as him, finesse doesn't come into the picture."

It was also the first time Drummond was able to play without his protective mask he wore early in the season after suffering a broken nose in practice.

"I was really excited to play without the mask," he said. "I wasn't nervous at all. I just felt like I was home again. I could see out of the corners of my eyes. I felt a lot more aware."

Lamb, who in 12 months has gone from a slasher with a ton of potential to the de facto team leader and one of the best players in the country, was impressed with the way Harvard played.

"They are very disciplined and they don't take bad shots so we couldn't be relaxed," he said. "We just had to try our hardest for us to get the win. They're a good team."

The Crimson, coached by former Duke guard Tommy Amaker, was equally impressed.

"They're very talented, very big," he said. "We didn't get much of anything easy around the basket which is probably going to happen to a lot of teams when they face this basketball team with their size and athleticism."

The Huskies will now have 10 days off before playing two more non-conference games, and then they'll be in the thick of it in the Big East. One of the goals over the next week and a half, no doubt, is to become more "connected." Lamb was asked what needs to happen for UConn to do just that.

"I think we're moving in the right direction," he said. "We have to work hard. The team has to know their roles. We have to pick it up on defense. Just really start executing our plays. Sometimes we go one-on-one too much or ball screen too much."