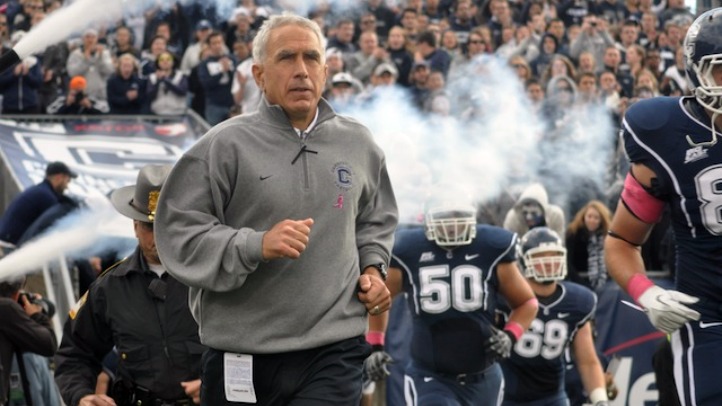 We said it every year: preseason rankings don't mean much. And then, invariably, we point you in the direction of the latest preseason rankings. In this case, it's Phil Steele, the man behind the annual College Football Preview who last week named seven Huskies to his preseason first-team Big East squad.

And now he's come out with how he expects the conference to stack up, from top to bottom (via ESPN.com).

1. USF
2. Louisville
3. Rutgers
4. Pitt
4. Cincinnati
6. UConn
7. Syracuse
8. Temple

If you're curious, Steele picked the Huskies to finish fifth a year ago. By the time it was over, UConn (3-4 in conference, 5-7 overall) was sixth. South Florida, it turns out, was seventh with Cincinnati, West Virginia and Louisville all finishing the year with a 5-2 conference record. Now the Mountaineers are gone to the Big 12, and Syracuse and Pitt will follow them out of the Big East (and to the ACC) next summer.

The Hartford Courant's Desmond Conner recently asked Huskies head coach Paul Pasqualoni about his inaugural season in Storrs and if he would have done anything differently.

"I don't know what I would have done differently. I don't know anything I would have done differently. I wish that we would have collected a few more wins early in the year. The one thing I would say is that would have been nice. We lost some very close games early in the year. It would have been nice, maybe, if we had been together a little longer or if we had a little bit more experience we could have come out of there either with one or two, maybe not all three of them, but maybe one or two of the three and that would have really helped us."

Just like last year, the biggest issue facing Pasqualoni is finding a starting quarterback.

At the end of the day, preseason rankings don't matter. In 2010 after being picked fourth in the Big East, then-Huskies head coach Randy Edsall had this to say: "My reaction is the same as it was last year. Who cares? We don't get excited about preseason polls. It's all about what you do on the field."

Of course, Edsall might feel differently now; he led Maryland to a 1-7 showing in the ACC last season (2-10 overall) -- he'd likely take any good news, imagined or otherwise. Either way, rankings, in general, are a good way to pass the time during the offseason while we wait for actual football to resume.