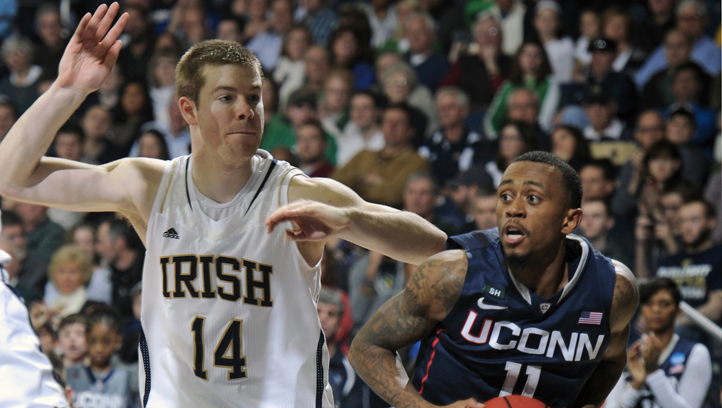 Shabazz Napier scored 19 points, Tyler Olander scored 12 of his career-high 16 points in the second half and Connecticut ended the game with a 7-0 run to beat No. 17 Notre Dame 65-58 Saturday, ending a 12-game winning streak by the Fighting Irish.
After Eric Atkins scored six straight points for the Irish to tie the score at 58 with a basket inside, Ryan Boatright made four straight free throws for Connecticut and DeAndre Daniels added a basket and a free throw to put the game away. The Huskies (12-3, 2-1) are the only team to beat the Irish (14-2, 2-1) at home in the past 48 games dating back to the end of the 2009-10 season. It also marked the third time in recent years the Huskies have ended a long home winning streak by the Irish.
The loss Saturday ended a 17-game home winning streak for the Irish. Last year the Huskies ended a 29-game streak. The Huskies also ended Notre Dame's school-record 45-game home streak in 2009.
The Huskies, who had outrebounded only three opponents all season, outrebounded the Irish 34-28, led by nine by Daniels and seven by Olander. After being outscored 16-8 in the paint in the first half, UConn had a 24-14 advantage inside in the second half as the Huskies managed to slow down Notre Dame's Cooley. The Huskies shot 51 percent for the game, 58 percent in the second half.
The Huskies prevented Notre Dame from winning its 13th straight overall, which would have allowed the Irish to get off to their best start ever in 18 seasons in the Big East and their best overall since opening the 1973-74 24-1 under Digger Phelps. That squad led by John Shumate and Adrian Dantley ended UCLA's 88-game winning streak finished 26-3.
Atkins led the Irish with 18, Jack Cooley added 14 points and nine rebounds and Jerian Grant had 11 points.
Connecticut took its first lead at 36-34 as Olander scored back-to-back baskets inside after Cooley went to the bench early in the second half after picking up his second foul. The Irish regained the lead at 37-36 on a jumper by Cameron Biedscheid. But the Huskies used an 8-3 spurt, including another pair of baskets inside by Olander, to move ahead 44-40.
The Irish tied the score on a basket by Cooley and a pair of free throws by Atkins.
But the Huskies regain control with a 10-4 run, highlighted by an alley-oop from Napier to Boatright. A basket inside by Napier gave UConn a 58-52 lead. But Atkins answered with six straight points to tie the score at 58. The Irish couldn't get the lead, missing four shots and having a turnover in the final minute.
Copyright AP - Associated Press