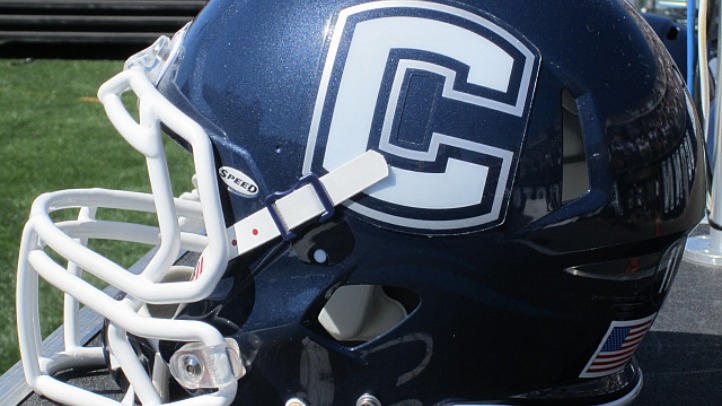 In just over a week, the focus will be on one player: Huskies quarterback Chandler Whitmer, who officially won the job after a strong showing this spring. But this is football where nothing is guaranteed and cliches like "you're only as good as your last play" actually still carry some weight. Unlike last year when had quarterbacks with exactly zero experience, this time around there's competition. And that won't change anytime soon.

Freshman Casey Cochran, who's recovering from a broken hand, might not contribute this season but he'll definitely be in the mix for the job starting in the spring. And assuming nothing changes between now and and signing day, he'll be joined by 6-6 Richard Lagow out of Plano, Texas. Lagow committed to UConn in June and he spoke recently with the Hartford Courant's Desmond Conner about why he was attracted to Pasqualoni's program and what if anything could change his mind about coming to Storrs.

"I liked the coaching staff a lot and I think I fit in with a lot of what they want to do," Lagow told Conner. "I was really surprised with all the facilities and everything about it. It had a great feeling about it. I liked Storrs a lot, a little town I liked."

Lagow also wanted to clarify the misconception that he was hoping from an offer from nearby TCU.

"That's kind of confusing because when I got first interviewed about that it didn't really get worded like I said it and then it kind of spread like wildfire," Lagow said. "The guy asked me, 'Are you UConn or are you looking for something else?' And what I told him was 'I'm completely, 100 percent UConn right now and I said the only thing that could make me think about changing my decision is if I got an offer from a local team that's in a good conference."

The two schools meeting that criteria: TCU and SMU. So when the interviewer pressed, Lagow was honest: "If I got offered from one of those schools I'd look it and think about it because it's close to home, a great conference and if it was a great place to fit in I might look at it."

Obviously, that's different from actively hoping that one of those schools offers up a scholarship. Could things change? Sure. Lagow's about to begin his senior year of high school and if we've learned anything about players around this age, there's a lot to process -- and that extends well beyond football. As it stands, however, Lagow is headed to UConn. And who knows, a year from now we could be in the mix for the starting job. Stranger things have happened.