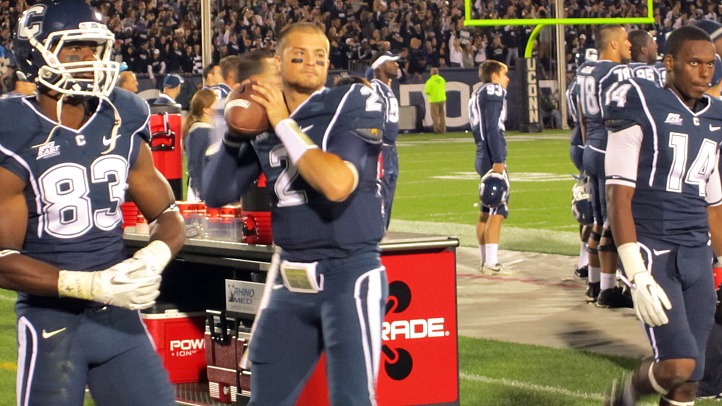 Sophomore quarterback Michael Nebrich will transfer immediately, the Hartford Courant's Desmond Conner reported Wednesday morning. Nebrich arrived at UConn from Burke, Virginia prior to the 2011 season and was immediately thrown into the mix for the Huskies' starting quarterback job. Johnny McEntee ended up with the gig, while Nebrich and Scott McCummings saw limited action.

By the time it was over, Nebrich appeared in eight games, completing 4-of-15 passes for 69 yards and an interception. Last week, coach Paul Pasqualoni announced that junior college transfer Chandler Whitmer would be the Huskies' starter, not only to give Whitmer much-needed first-team reps but to also settle on a No. 2 behind him. Based on Nebrich's decision to leave the program, it's safe to assume that he was buried on the depth chart behind McEntee, McCummings, and freshman Casey Cochran. (Incidentally, a year ago, the team's No. 5 QB Michael Box transferred just prior to the season.)

According to his official bio on the Huskies website, Nebrich's high school career included: being named Metro Player of the Year by Washington Post, the Fairfax Times Male Athlete of the Year, first-team all-region and player of the year honors, All-District and player of the year, and he also broke the Virginia state record for all-purpose yards with 4,968 and also scored 59 TDs during his senior season of high school.
It's not known where Nebrich will transfer.