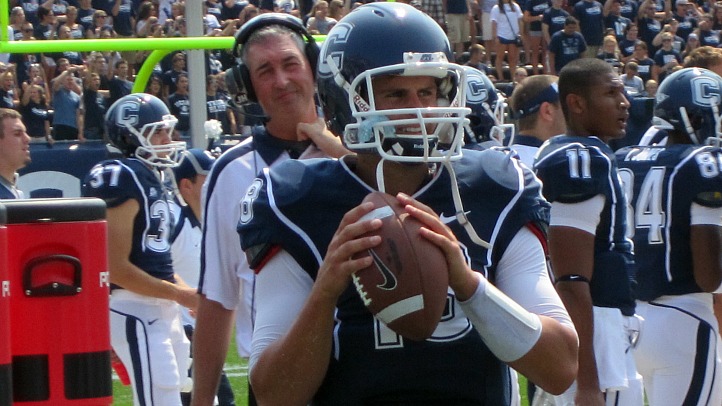 Making that trick-shot video might turn out to be the worst decision of Johnny McEntee's college career. Now that he's UConn's starting quarterback (for the time being, anyway), every mistake is now scrutinized through the lens of "but he was so accurate on YouTube." We're sure if McEntee had unlimited mulligans every time he threw an interception, he'd be a future NFL Hall of Famer, too.

The reality, of course, is that McEntee hasn't distinguished himself from his competition, Scott McCummings and Michael Nebrich, and there's every reason to think that his playing time will be curtailed or eventually disappear altogether if he continues to play like he did against Vandy. In case you missed it, McEntee took virtually every snap and finished the night 10 for 27 for 99 yards, no touchdowns and three interceptions.

And while his stat line would lead you to believe that the Huskies got blown out, they were actually leading late in the fourth quarter until a McEntee pass was picked, returned for six and the thought of a comeback was just that.

As we've mentioned countless times this summer, the defense did much of the heavy lifting, creating turnovers (and points off those turnovers), and keeping UConn close.

Offensively, running back Lyle McCombs had his second impressive outing, his blockers did a splendid job of creating running lanes, and Ryan Griffin proved why he's one of the conference's best tight ends. And while young wideout Geremy Davis and Tebucky Jones Jr. are young wideouts who showed the ability to go get the ball, it's hard to tell just how good they are given McEntee's struggles.

Which brings us to a question we kept asking Saturday night during the game: how long until coach Paul Pasqualoni makes a move at quarterback?

"As the game went I stayed with Johnny just to have some continuity," Pasqualoni said after the 24-21 loss. "We put [Michael Nebrich] in at the start of the second quarter, which we did a week ago, and it was just hard to get into the flow ... with what they were doing. There were a couple things they were doing on defense that was a little bit different so in an effort to just have some continuity ... we just stayed with Johnny."

A day later, and Pasqualoni still hadn't made a decision on who will start against Iowa State, a team that scored 44 points over the weekend.

"We'll go back to work with the three quarterbacks this week and have all three ready to go," Pasqualoni said on a conference call Sunday. "We won't make any decision, as we don't each week, until we get to the end of the week. But we're going to start back up [Sunday] with the idea and the notion that we're going to have three ready to go again."

Pasqualoni did say that McEntee wasn't completely to blame for the performance.

"I think that certainly Johnny ... has to play better," Pasqualoni said. "But as it usually is, there's a lot to do with the route runners, the stems, the timing of the routes. There's a lot to do with the protections. This is a team that blitzed a great deal. We weren't as consistent from a blocking and protection standpoint, trying to keep John clean, as we need to be."

And that's all true. But McEntee made plenty of throws while off-balance, and on at least two occasions he led his receivers running underneath routes right into zones occupied by defenders. The results weren't pretty.

But we knew the deal coming into the season. The defense and special teams would have to play flawlessly while the offense figured things out. Well, we're two weeks into the season and there may be more questions now than there were before the Fordham game.