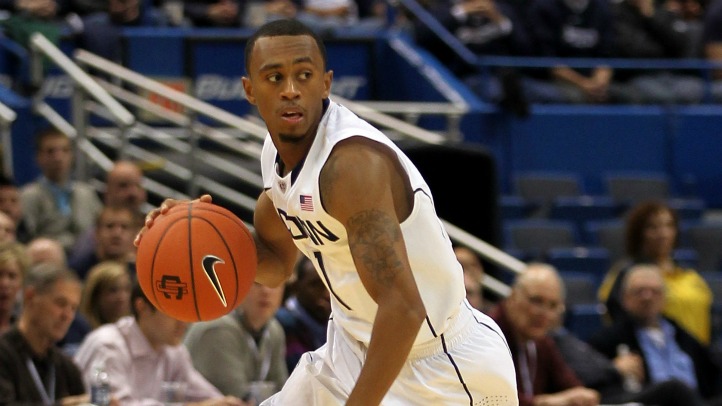 UConn faces N.C. State Tuesday in the Jimmy V Classic in Madison Square Garden, and for the first time in a long time, the Wolfpack will be a top-25 team while the Huskies will be on the outside looking in. But that's a microcosm of UConn's season. Banned from postseason play, rankings don't mean much anyway.

The more immediate concern for Kevin Ollie's team: getting past two sluggish games against Stony Brook and New Hampshire, and finding a way to recapture the early season success that saw the Huskies briefly crack the top 25. The easiest way to do that: get Shabazz Napier back on track. Easier said that done, we know, but UConn's guards are on the minds of N.C. State coach Mark Gottfried.

"They seem to be a guard-oriented team that is really quick," Gottfried told reporters recently (via the Hartford Courant). "I think Kevin Ollie is trying to instill that in teams. They are really getting up in guys, getting after them. That will be maybe a little different than we've seen. I think those guys are excited about Kevin coaching them. They want to play well and hard for him."

In addition to Napier, whose first-half struggles spilled into the second half against UNH last week, there's also sophomore Ryan Boatright.

"… We will have a hard time guarding [Boatright]," Gottfried said. "He's small, he's quick, he's little. Scott Wood probably gets the first assignment on him, but different guys will guard him throughout the game. He's a tough player to defend and I think Napier is a tough player to defend."

Turns out, the feeling's mutual.

"Just that atmosphere alone will get us to pick it up," Boatright said. "We're all looking forward to it. N.C. State is a great team. C.J. Leslie is a great point guard. That's going to be a great challenge."

And Ollie's challenge leading up to the game is getting his team back on track. They beat UNH by eight points in a sloppy effort, something that concerns the first-year coach.

"We've got to do a better job," he said. "I've got to do a better job. Our coaching staff has to do a better job. We'll get it together. You don't go through life, you grow through life. …

"We're not good enough to play this way and expect we're going to keep winning," Ollie continued. "The competition in the Big East, everybody knows, is going to be tough sledding. They take things away from you, make you play your game in a different fashion."

How Ollie navigates his way through rough patches just like this will probably have a non-trivial impact on whether he gets a long-term contract. Most people (us included) think he deserves it, but most people (including us) aren't the ones who get to make that decision.