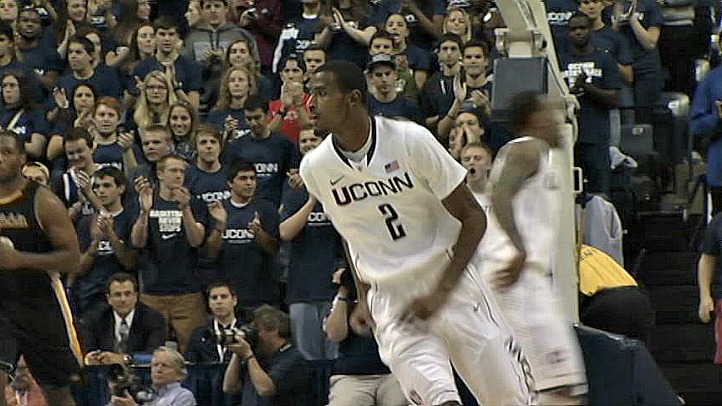 Last month, DeAndre Daniels admitted that his freshman year was a rough one. The 6-8 forward rarely played and had to deal with many of the issues facing players making the transition from high school to big-time college basketball.

"Last year, when things would go bad, I wanted to go home," he said. "I understand my role better. I'm boxing out better, and I'm going to get the ball better. I have to do that because I'm not as big and strong as some of the [frontcourt] guys we're going to face."

Coach Kevin Ollie has faith in Daniels.

"I believe [Daniels] has the talent," he said via the Hartford Courant. "I believe he has the ability to create, do some things in the low post. He feels the worst right now. He's a competitor, he wants to play and he wants to play better. His back locked up on him today, and he wouldn't make any excuses, but I knew he was hurting."

Daniels have showed marked improvement this season and the Huskies need it. They've struggled on the boards, in large part because of the departure of four frontcourt players this spring coupled with the lack of depth and experience. But Daniels, like the other Huskies big men, has to get better if UConn is going to compete in the paint.

"We're going to have to continue to face the challenge," Ollie said after Tuesday's loss to NC State in which the Huskies were outrebounded 37-33. "We're going to go with what we have, and what we have is enough in that locker room."

The Huskies got an unexpected lift from 7-1 Enosch Wolf, who scored 12 points and grabbed nine rebounds against the Wolfpack.

"He gave us a boost," Ollie said. "And we're going to need that. We're going to have to do it by committee. I told Tyler [Olander], 'Your time is going to come.' I told Phillip [Nolan], 'Your time is going to come. I tell Tyler these are trying times. In trying times, you can't stop trying."

The Huskies face long odds this season but they're close to be a really good team. Improving their rebounding totals would go a long way in accomplishing that.