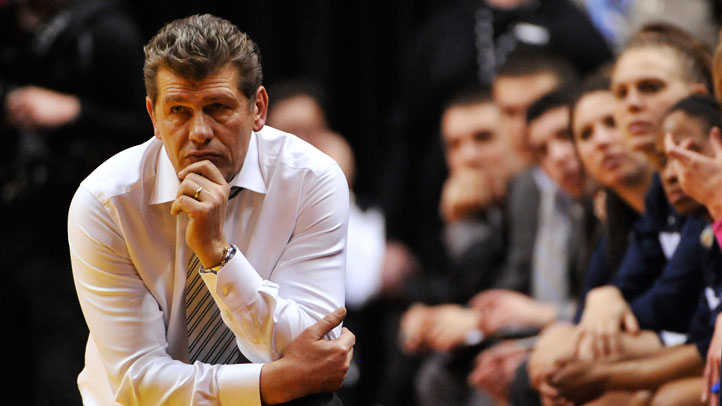 It wasn't enough for the Huskies to handily take down the Orange Wednesday in Syracuse, they also did it with homegrown talent Breanna Stewart sitting in the stands. Stewart is a senior at Cicero-North Syracuse High, is considered one of the best frontcourt players in the country and -- you guessed it -- she's headed to UConn in the fall.

Earlier this season, coach Geno Auriemma described Stewart as capable of being the best player to come through Storrs in some time. That's lofty praise for a program with seven national titles and perennially ranked among the top 5. But it gets better. If this year's freshman class was impressive, next year's could somehow be better.

Stewart will be joined by Morgan Tuck and Moriah Jefferson, all three high school All-Americans, just like Kaleena Mosqueda-Lewis, Brianna Banks and Kiah Stokes before them.

"Breanna has the thing that coaches really value in players, especially big kids," Auriemma said according to the Hartford Courant's John Altavilla. "Our coaches like to ask what it would be like if [a big kid] were 5-foot-10. Would she be a good player, one of the Top 10 in the country? Many times the answer is no. The reason a kid is good is that the kid is big."

"But if Breanna was 5-10, she would still be one of the best players in America, and the fact is, she is so competitive and skilled and has a good understanding of the game and her affect on it."

Auriemma's laudatory remarks haven't been lost on Stewart. But she's also not going to be overwhelmed by the expectations.

"I'm grateful for what he's said and how he feels, but I am not letting it get to my head," Stewart said. "I just want to get better and live up to [the praise]."

The good news: the Huskies aren't relying on Stewart to come in and save the program. Next year's team will return everyone but senior guard Tiffany Hayes. There are worse situations for a young player to find themselves. Even Stokes would agree with that.