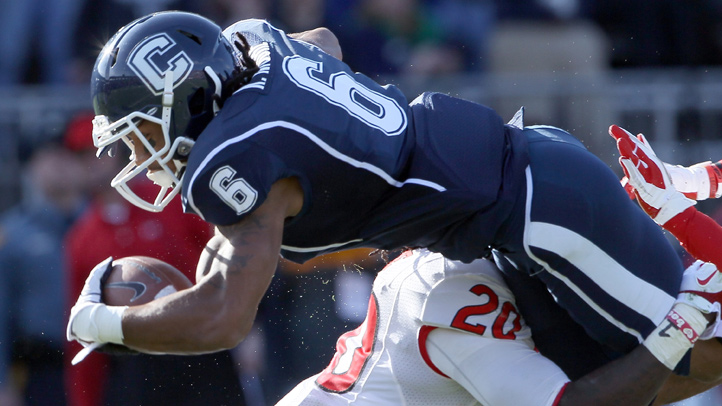 The NFL Combine is officially over, and the week in Indianapolis now behind those draft-eligible players looking to make their livings on Sunday's next season. And while the Huskies were just 5-7 in 2011, three players represented the program in Indy, and all three came out the other side better for it.

The combine is rife with tales of big-time prospects who flopped in any one of the middle-school field-day spectacles -- the long jump, the vertical leap, and the 40-yard dash among them -- but there were no such concerns for Kendall Reyes, Kashif Moore and Dave Teggart.

We've written previously about Reyes (a first-round prospect) and Moore (he blew the doors off the individual drills), but Teggart also showed well.

"It was a great experience," he said according to the Hartford Courant's Desmond Conner. "I definitely prepared for this, we all did, it was good, a good time."

Teggart was one of five kickers invited to the combine and left as the No. 2-rated performer. One of the biggest questions coaches and scouts had about Teggart was on kickoffs, something he didn't do during his senior season.

"On the kickoffs down the middle, I probably averaged six or seven [yards] deep on the middle kickoff, and the directionals you had to put them on the spot, and I put them all on the spot, three to the left and three to the right," Teggart said. "They set up a barrel pretty much on the numbers, and you have to put the ball in the right alley on the field. I put them on the numbers. I hit them pretty good. I didn't hit them all deep, but they were more worried about the directionals on those because the middle ones were the distance ones they cared about."

Reyes, meanwhile, showed quickness and speed (he ran a blazing 4.79 40), but realizes that the combine is just a step in the months-long process leading up to the draft.

"Yeah, I thought I did good, but this was just one stop," he said."There's still a lot of things left to do."

Most personnel people already knew about Reyes, and to a lesser extent, Teggart. But it was Moore's performance that might have drawn the most attention. Despite being undersized (5-9, 180 pounds), he ranked among the best in several combine categories.

"He had some problems tracking and adjusting to the deeper throws, but he caught the ball well overall and flashed the ability to pluck it away from his frame," said ESPN draft analyst Todd McShay. "He was a late-round prospect heading into this week, but with this performance Moore will send scouts back to the tape to see if his testing matches his on-field performance."

With the combine over, players are now preparing for pro days, individual workouts and, ultimately, draft weekend.