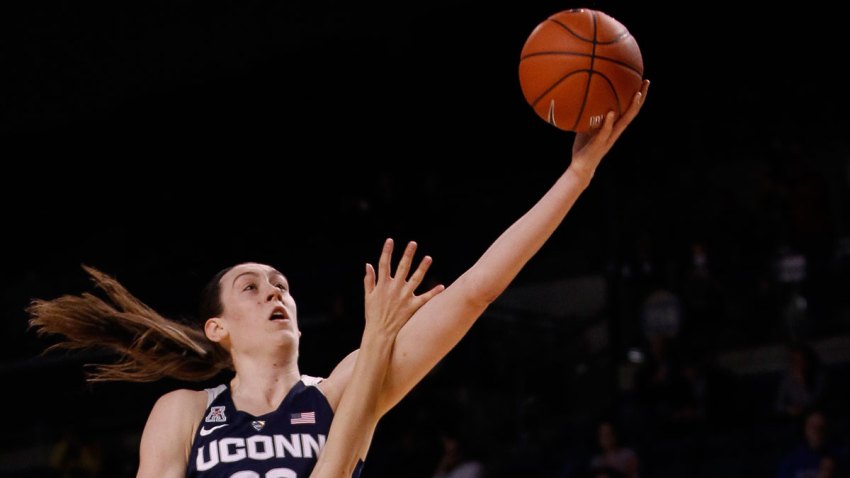 Breanna Stewart scored 24 points and had 10 rebounds to help lead Connecticut to a dominating 94-30 victory over Tulsa on Wednesday night.
Moriah Jefferson and Katie Lou Samuelson each added 14 points for the three-time defending national champion Huskies (19-0, 9-0 American), who won their 56th consecutive game.
For Stewart, who also added five assists and four blocked shots, her rebound total pushed her over 1,000 for her career, becoming the sixth UConn player to reach the milestone.
Tatyana Perez scored six points to lead Tulsa (7-14, 4-6), which lost for the fourth time in its last five.
It was the second time this season that UConn completely dismantled the Golden Hurricane, as the Huskies routed Tulsa 95-35 in Hartford back on Jan. 6, with those games marking their two largest victories of the season.
Connecticut controlled the game right from the opening tip-off, as Kia Nurse sank a 3-pointer just nine seconds into the contest. After Tulsa's Kelsee Grovey hit a 3 to pull the Golden Hurricane to within 5-3 with 2:08 elapsed, UConn proceeded to reel off a 22-0 run the rest of the first quarter, taking a 27-3 advantage into the second.
It was the lowest-scoring quarter of the season for Tulsa, who shot just 1-for-15 from the floor.
The Huskies continued to add to their lead in the second, using a 14-0 run to build up a 51-9 cushion when Samuelson connected for her third 3 of the opening half with 1:04 left.
UConn led 53-12 at halftime, marking its largest halftime lead of the season and the fourth straight game in which they've topped 50 points and led by more than 30 at the break.
The Huskies' lead just kept increasing throughout the second half, as they finished the contest on an 11-3 run over the final 3:33.
TIP INS
Connecticut: Tulsa's 30 points marks a season-low for the UConn defense. The Huskies also held Tulsa to just 17.9 percent shooting (10 for 56), the Huskies' lowest percentage allowed this season. The Golden Hurricane's 10 field goals made was also a season-low for UConn.
Tulsa: The Golden Hurricane shot just 17.9 percent from the floor (10 for 56), marking their lowest field goal percentage of the season, surpassing the 26.7 percent (16 for 60) from their first meeting with UConn on Jan. 6. Their 10 field goals made was also a season-low.
UP NEXT
Connecticut: hosts Memphis on Saturday at the XL Center in Hartford.
Tulsa: visits UCF on Saturday.
Copyright AP - Associated Press