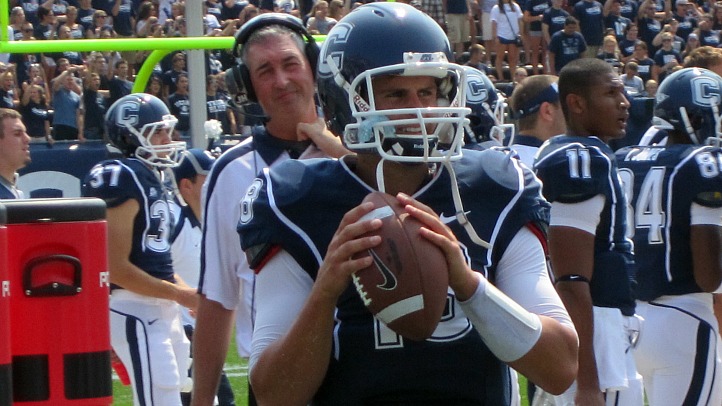 We were warned for months leading up to the regular season that the offense would need time. They looked proficient against Fordham in the season opener, both running and passing. It was a different story against Vandy six days later; Lyle McCombs still seemed every bit the dangerous rusher but the quarterbacks -- primarily Johnny McEntee -- looked out of sorts. He finished the night with three interceptions, and just 99 passing yards. And his inability to sustain drives on third down had everything to do with 24-21 loss.

Head coach Paul Pasqualoni says he'll continue the three-headed QB rotation of McEntee, Scott McCummings and Michael Nebrich -- presumably with McEntee making his third start -- but if the outcome is going to be different than it was a week ago, whoever's under center is going to have show a little more poise in the pocket.

"We understand our protection but the execution needs to be even better," Pasqualoni said, according to the Hartford Courant. "From a pass protection standpoint, we are improving. The disappointing thing is that we can't be at the goal line and give up a negative play. That has happened to us two weeks in a row now. We need to improve on that, and obviously we had some unfortunate interceptions."

Playing Vandy on the road is one thing; yes, they're an SEC team, but annually one of the worst. Iowa State might be coming to Storrs, but they're a program on the rise; you have to look no further than last week's triple-overtime win over in-state rival Iowa.

If the previous two outings were any indication, this game will come down to the offenses. UConn's defense is every bit the unit they were touted to be. They gave up a few big plays against Vandy but they also scored a go-ahead touchdown on a fumble recovery. On the other side of the ball, offensive coordinator George DeLeone has to expect Iowa State's defense to pressure the quarterbacks and force them into mistakes.

Which means that the UConn coaches have to simplify the QBs' job. Throw more screen passes, give half-field reads to limit mistakes and reduce hesitation in the pocket. Hit quick throws early, let McCombs soften of the defense with his running game, and then look downfield for big plays as the game progresses. And we can't stress this enough: get tight end Ryan Griffin involved. He's a match-up problem for just about any defense. The Huskies might as well take advantage of him, particularly with the tenuous QB position.

While we don't expect anybody to put up Dan Orlovsky-type numbers Friday night, a little consistency would go along way for a Huskies offense still searching for an identify.