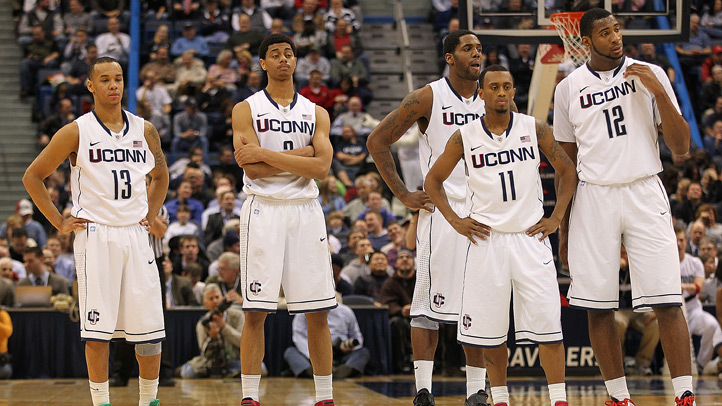 For the Huskies men's team, there's not much reason to celebrate lately; they've won three of their last 12 games, have been without their head coach for a month, and by most accounts, have played themselves right out of the NCAA Tournament. But it's not over till it's over; UConn could beat Pitt in the season finale and then go on a 2011-style rampage through the Big East Tournament. Short of that, however, the postseason prognosis looks grim. ...

Except that there are plenty of bracket experts who fully expect UConn to not only make the NCAA Tourney, but they don't think it'll be that close.

ESPN's resident bracketologist, Joe Lunardi, doesn't even have the Huskies among his "last four in" (he has them among his final eight). And CBSSports.com's Jerry Palm writes that it's not about how you finish, but the entire season of work that determines your postseason fate.

"The Huskies' 5-11 record since New Year's [is not] important. The committee has de-emphasized how a team finishes the season as a criteria and no longer tracks such information on their team data sheets. Teams are judged on their entire seasons, and no particular weight is given to any one portion."

The analysts have the Huskies as either a 10 or 11 seed which, frankly, seems insane given how poorly UConn has played recently. The Hartford Courant's Dom Amore writes that "The Huskies are 0-5 against teams ranked in the top 25 in RPI, but 6-2 against teams ranked between 26 and 50. Ken Pomeroy, another major analyst, has UConn rated No. 38."

Amore also points out that it really shouldn't matter how UConn finishes the season if experts are already penciling them into the tournament. A week ago, conventional wisdom was that the Huskies would have to win two of their final three regular-season games. Now they could go 0-3 and still get invited to the Big Dance.