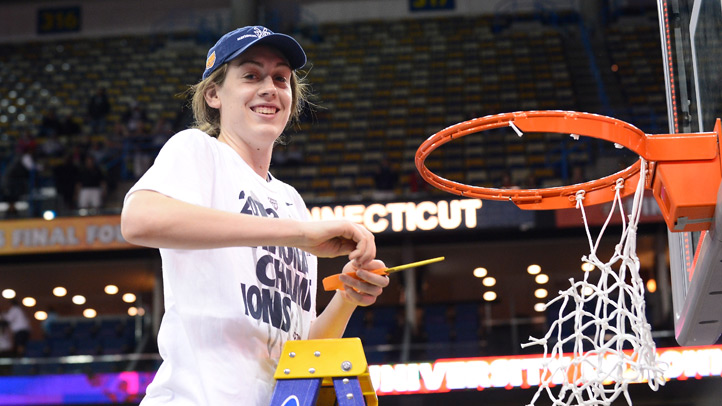 Here's a scary thought: the defending national champs could actually be better in 2013-14. Yes, Geno Auriemma's team cruised to title No. 8 after finally figuring out how to beat Big East nemesis Notre Dame. Now, as summer gives way to fall, we're looking ahead to a new season, and with it, new expectations.

Kelly Faris, the heart and soul of that championship team, is now in the WNBA, an Caroline Doty has graduated. But three starters remain, as well as a bench full of All-Americans eagerly looking for playing time. And if a summer spent representing their country is any indication, a trio of sophomores will be leading the way.

Breanna Stewart is coming off a Final Four MVP performance, and Morgan Tuck and Moriah Jefferson both contributed during the Huskies' tournament stretch run. All three were members of the FIBA U-19 team that won a gold medal in Lithuania this summer, and all will be better for it once the college season is underway.

"Based on what I saw I think they've all improved," UConn assistant Shea Ralph told SNY.com's Carl Adamec. "Of course, it's a different team with USA Basketball. But what I liked was the different leadership roles they all took and how they handled those responsibilities. All of them had a hand in it."

Not surprisingly, Stewart was named the tournament's Most Outstanding Player. She averaged 16.9 points per game, including a blistering 58 percent from beyond the arc.

Stewie leads by example," Ralph said. "In one of the games I saw (against Australia) she scored 14 points in a 21-0 run to put her team in control. Whenever her team needed it, she would make the big shot or get the big rebound or make the big block."

Tuck, meanwhile, averaged 13.1 points during the U.S.'s 9-0 run to the gold.

"Morgan was the captain on the floor and I really think she took that role to heart," Ralph continued. "It was leadership by example when it needed to be and she was vocal when she needed to be. For example, if there was a mix-up defensively she was the one to get on the players to make sure they were doing the right things and were in the right places. That was impressive to me."

And Jefferson, who will assume point guard duties for the Huskies in the fall, averaged 3.9 assists and 1.5 steals.

"Moriah did a good job running the team and getting the team into the offense," Ralph said. "She didn't shoot the ball that great in the games that I saw but she took care of it and was very good defensively. She was that real spark plug a team needs."

And now all three are weeks away from helping the Huskies defend their title.