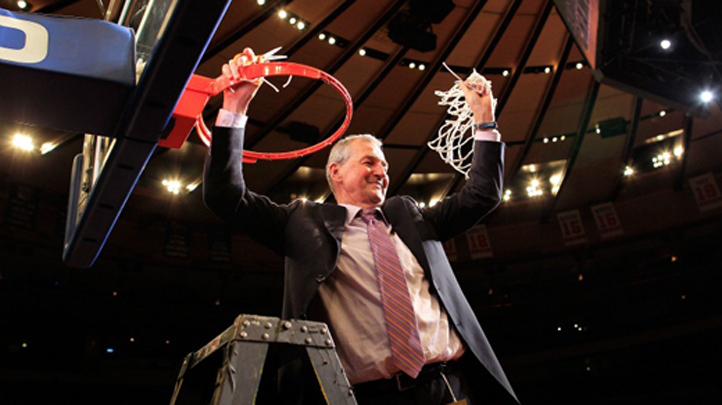 The original plan was for the Huskies to play in the second annual Carrier Classic to kick off the 2012-13 season. And then, last month, the event's organizers decided to go with Ohio State and Marquette after UConn opted out of the game.

"I want to make this clear – UConn pulled out. We stood by UConn," Mike Whalen, head of Morale Entertainment, the game's promoter, told the Hartford Courant in May. "We were blind-sided. We were disappointed, we had to scramble."

So that happened. But the Huskies have contingency plans. Instead of playing on an aircraft carrier, UConn and Michigan State are primed to open the season at an overseas military base just before Veterans Day, according to a story from ESPN's Andy Katz.
Ramstein Air Base in Germany, the home of the U.S. Air Forces in Europe and also a North Atlantic Treaty Organization installation, is the proposed location, pending formal approval by the U.S. Department of Defense, which negotiated the game with ESPN programming.

The game would start late, sometime after 10 p.m. local time in Germany, for an early evening East Coast start time. It would be televised on ESPN.
Coach Jim Calhoun sounds excited about the opportunity.

"With so many of our (servicemen and women) coming from the war front, it's appropriate for our kids to honor them,'' he said. "This is a great thing for us and for the kids, especially on Veterans Day.''

(It probably should go without mentioning but we'll do it anyway: Calhoun sure sounds like a guy who plans on coaching another season.)

Regarding the Carrier Classic that wasn't, Calhoun offered this: "We had talked about an aircraft carrier game but it didn't work out and we took this opportunity,'' he said. "This will be something that our kids will remember for their lifetime. I hope we're doing our small part to help the with (servicemen and women).''

Spartans coach Tom Izzo was also pumped about the opportunity.

"I asked my players if they wanted to do it and they were jacked,'' he told Katz. "Has a college team ever played a regular-season game in Europe? I don't think so. It will be cool. We're going to a base in another country. That's pretty cool.''

While both teams will be young, Calhoun already knows what to expect even with the game more than four months off.

"They are always physical up front, even without seeing them,'' he said. "I'm looking forward to this. We both consider ourselves national programs and we're going across the sea to Germany. It's a special thing for our (servicemen and women), a special game for our kids. We get to play a good team. There is an awful lot of good in this for all sides.''