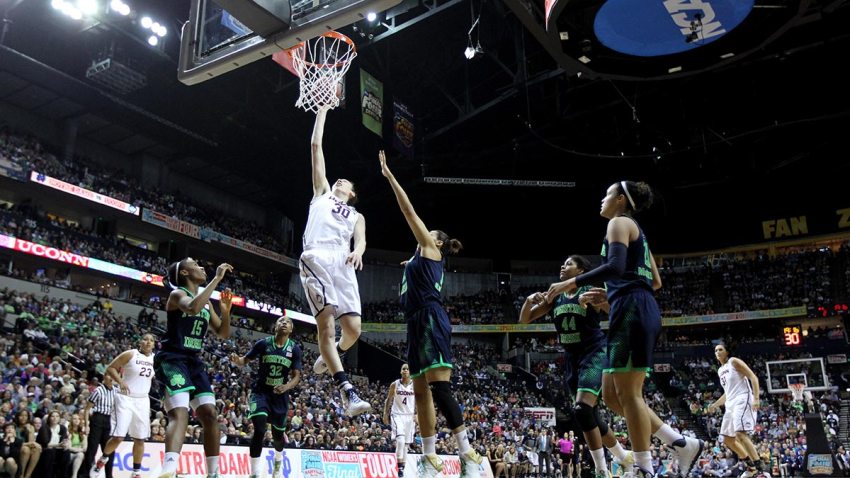 The defending national champion Huskies will face UCLA as part of the Hall of Fame Women's Holiday Showcase, the Naismith Memorial Basketball Hall of Fame announced Friday. The event will take place on Sunday, December 21 at 5:00 p.m. at Mohegan Sun Arena in Uncasville, Conn., and will be televised on ESPN2.

"It is very exciting to announce the first Basketball Hall of Fame Women's Holiday Showcase at Mohegan Sun Arena," said John L. Doleva, President and CEO of the Naismith Memorial Basketball Hall of Fame, said in a press release. "We are honored to bring two well-respected women's basketball programs to compete and appreciate the continued support and partnership of Mohegan Sun."

More details:
The Huskies hold a 2-0 in the all-time series between these two squads. UConn defeated the Bruins, 113-102, on November 17, 1998 in Los Angeles and by a 106-64 score on December 23, 1999 in Connecticut. The 102 points scored by UCLA in the first meeting is tied for the highest point total the Huskies have ever surrendered to an opponent.
"It is an honor to be a part of the Basketball Hall of Fame Women's Holiday Showcase," UCLA Head Coach Cori Close said. "To be able to play the reigning national champions in Connecticut will be a huge challenge but also a great opportunity. You couldn't pick a better arena and the state of Connecticut is very passionate about its basketball, so we are very excited to be in this event."

And UConn coach Geno Auriemma, who has led the program to nine national titles, added: "I am thrilled to be competing in an event sponsored by the Naismith Memorial Hall of Fame for a second-straight season. UCLA is going to be much improved this season and this matchup promises to be an exciting one. Mohegan Sun Arena is a fun place to play and I am happy that our fans in Southeastern Connecticut have this opportunity to come watch us play in their backyard."

On Thursday, it was announced that the Huskies will face St. John's in the annual Maggie Dixon Classic, at Madison Square Garden on Jan. 4.