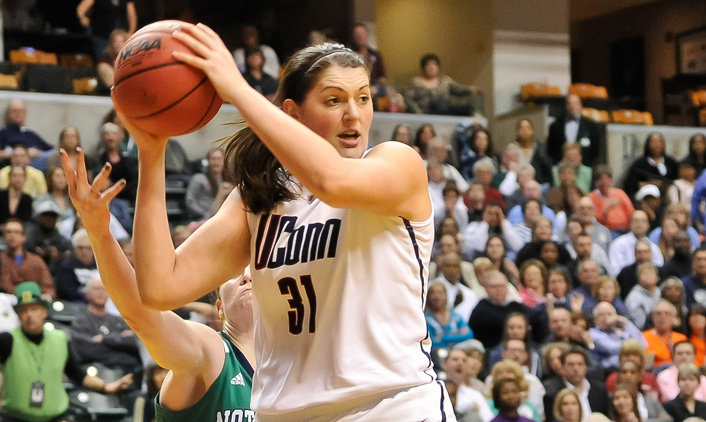 While the men may be eking out victories with late-game heroics, the women are cruising to wins like they're one of the best teams in the country. On Sunday, the Huskies traveled to College Station, Texas long enough to handle No. 16 Texas A&M, 81-50.

The Aggies won the national championship in 2011 but there was no such magic this time.

"UConn was in midseason form," Texas A&M coach Gary Blair said. "My freshmen have to learn on the fly. That's what this schedule is all about, and that's what this year is all about. Eventually we're going to have to become a smarter basketball team. But by far this was the best team of three we've played."

And the Huskies are only going to get better. Four players ended the afternoon in double figures with center Stefanie Dolson scoring a career-best 24 points to go along with six rebounds and five assists.

"If we throw it down to Stefanie, something good is going to happen," coach Geno Auriemma said afterwards. "If we keep doing that, it's going to put other (teams') big guys under a lot of pressure."

Blair added: "Dolson just put on a clinic over my post players."

You can't put it any simpler than that.

Kaleena Mosqueda-Lewis added 16 points, freshman Breanna Stewart had 11 and Kelly Faris was good for 10. The Huskies shot 56 percent from the floor and 44 percent from behind the arc while they held the Aggies to 30 percent shooting (27 percent from 3).

"When points are coming from a lot of spots on the floor, we're a hard team to play against," said Auriemma i what is becoming painfully obvious to UConn's opponents. "We're a really good outside shooting team. The danger of that is you come down the floor and pass the ball once and start jacking up jump shots. We really made a concentrated effort to get the ball in the lane."

And when they did, Dolson dominated.

"Teams are going make sure they take away our jump shots, which spreads the floor and opens up the paint," she said. "It makes it a lot easier for me and my job down there. …

I'm just trying to help the team run its offense," Dolson continued via the Hartford Courant. "It's possible for a center to do that, although you always hear about how it's the guards who do that. I can see a lot of people from where I am. I know where people should be, what spots they should be in."

The Huskies' current spot is a familiar one: they're ranked No. 2 in the country and currently undefeated. It's early yet, but it's also a sign of things to come.

Next up: a Thanksgiving night meeting with Wake Forest in the U.S. Virgin Islands Paradise Jam.