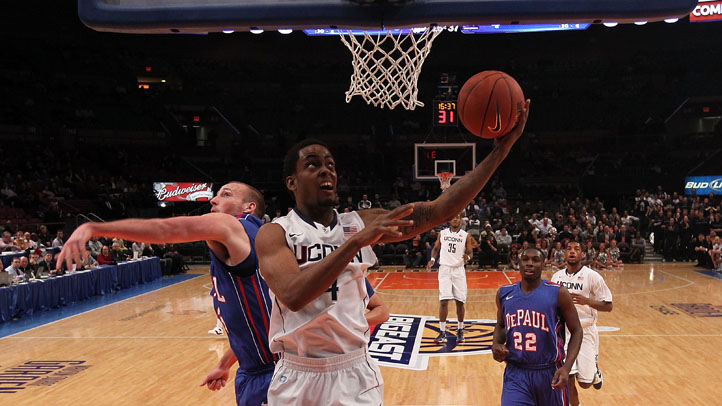 In one sense, Jamal Coombs-McDaniel had nothing left to accomplish at UConn. The Huskies won the national championship last month, and for most players that's the carrot at the end of the stick.

But unlike Kemba Walker or Jeremy Lamb, Coombs-McDaniel wasn't instrumental in UConn's 11-game postseason run. He had a flurry of 20-point games midway through the regular season that kept a sinking Huskies team afloat, but down the stretch his minutes dwindled, his outlook on his future in Storrs soured, and when UConn outlasted Butler, his future had pretty much been decided.

Speaking outside Rockville Superior Court Thursday, Coombs-McDaniel admitted that his decision came down to one thing: playing time. "Being a junior, I just want to play 30-plus minutes wherever I'm going to go, and be one of the vocal guys, one of the vocal leaders on the team. I couldn't do that at UConn."

He also hinted at where he might end up next season (where he will have to sit out a year before suiting up in 2012-2013): Hofstra, UC Irvine, Miami or Missouri. The plan is to visit all four schools, and he's already made an unofficial visit to Hofstra.

So what do these programs look like? Well, let's take a look.

Hofstra
Final 2011 rank: NA (135th in Pomeroy CBR)
Conference: Colonial Athletic Association
Record: 21-12 (14-4 in CAA, 3rd)
Postseason: lost to Evansville in the CBI Tournament
Other: Final Four team VCU also plays in the CAA

UC Irvine
Final 2011 rank: NA (224th in Pomeroy CBR)
Conference: Big West
Record: 13-19 (6-10 in BW, 7th)
Postseason: NA
Other: UC Santa Barbara was only school in Big West to qualify for NCAA Tournament, a 15th seed that lost to Florida in the second round.

Miami
Final 2011 rank: NA (58th in Pomeroy CBR)
Conference: ACC
Record: 21-15 (6-10 in ACC, 9th)
Postseason: Lost to Alabama in NIT quarterfinals
Other: Jim Larranaga, who led George Mason to an improbable Final Four in 2006, is Miami's new coach.

Missouri
Final 2011 rank: NA (44th in Pomeroy CBR)
Conference: Big 12
Record: 23-11 (8-8 in Big 12, 5th)
Postseason: As an 11 seed, lost in second round of NCAA Tournament to No. 6 Cincinnati
Other: ESPN's Chad Ford thinks Missouri could be candidates to supplant Kansas atop the Big 12.
None of these basketball programs has UConn's history but that's sort of the point. Coombs-McDaniel wants to play. He already has his national title, now he wants to contribute. It's hard to fault him for that.