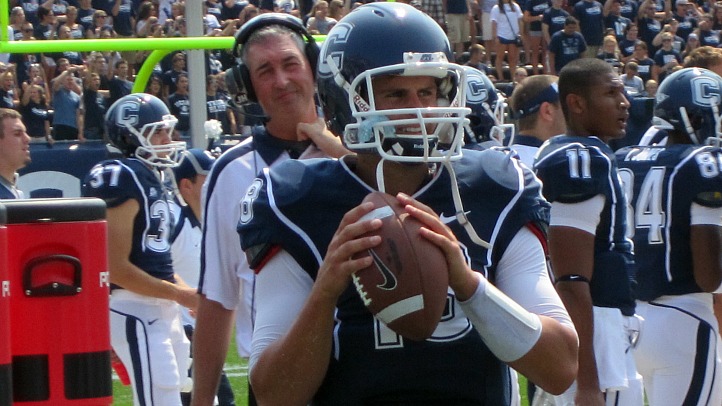 By the time the Huskies finally kicked off the season against Fordham last Saturday, the suspense had almost become unbearable. Okay, that's a slight exaggeration, but after hearing about it since the spring, we were genuinely curious to see who Paul Pasqualoni would send onto the field as the starting quarterback.

Officially, Johnny McEntee had the honor, but by the time it was all said and done, pretty much anybody wearing a number lower than 20 seemed to take a snap. Actually, it was a three-man rotation of -- you guessed it -- the three guys battling for the job: McEntee, Scott McCummings and Michael Nebrich. And, perhaps as expected, McEntee was the most consistent. He completed 8 of 12 passes for 113 yards. McCummings was 1 of 1 for 55 yards and a touchdown -- a double-fake in the backfield that left tight end Ryan Griffin wide open -- and added another 23 yards rushing, and Nebrich finished 3 of 8 for 60 yards with a pretty bad interception (he stared down the receiver before throwing it right to the defender).

Actually, it wasn't exactly a rotation, more the case that guys were on the field based on time of the game and situation. The Hartford Courant's Jeff Jacobs explains:

"After weeks and weeks of speculation, the opener came down to this script. McEntee was essentially going to play the first and third quarters, Nebrich the second and fourth, with McCummings being brought in certain situations as a wildcat. Nebrich said the quarterbacks were told of the arrangement Friday. McEntee said it was Thursday. Speculation started Wednesday. So take your pick, theorists."

And that's sorta what happened. But guess what? If you're looking for some resolution to the starting job before the Huskies travel to Vanderbilt Saturday night, we got some bad news for you.

"I'm sure everybody in this room would have loved to have seen one guy jump out in front of the other, but you guys are going to have to be patient," Pasqualoni said after UConn beat Fordham, 35-3. "It's a fierce competition. And that's a positive thing."

Nebrich told Jacobs that "Johnny played a great game today. I think he separated himself a little bit from everybody. But I'm still going to go out every practice and push myself, which also will make Johnny better. I'm going to keep practicing like the competition is still open."

While McEntee may have separated himself, Pasqualoni appears to be in no rush to name a full-time starter, perhaps because one game against Fordham does not a career make, but also because the Huskies are still in the process of figuring out what this offense is capable of.

"We will keep going [with the rotation] until it's clear," Pasqualoni said. "It's hard to make that instant, short evaluation. You make mistakes when you do that. If it's going to take us time to make the decision, then it's going to take us time."

Exactly. What's the hurry when there's still so much to be decided? If there's one thing to take away from the Fordham game it's that Griffin, considered one of the conference's best tight ends, could be a life preserver for whoever ends up under center. And if Lyle McCombs (24 carries, 141 yards, 4 TDs) runs the rest of the year like he did Saturday, it may not matter who's playing quarterback.

In related Huskies quarterbacking news, Michael Box, who was in the hunt for the starting gig as recently as two weeks ago before he left the program, will transfer to Indiana University-Pennsylvania, the Courant's Desmond Conner reported Sunday. He'll have three years of eligibility at the Division II school.

"As long as I'm not going D-I to D-I and I enrolled within the first 12 days of classes I'm eligible to play this season," Box told Conner. "It's the best thing for me. The opportunities were better there. I liked the campus. I liked the coaching staff. They were on the up and up...all parties win. … "I hope everyone the best at UConn and I have no ill will against anyone. But this is a smart decision on my part, I think. I only have one college career."

Hey, you can't fault the kid for wanting to play, something that probably wasn't going to happen at UConn this season.