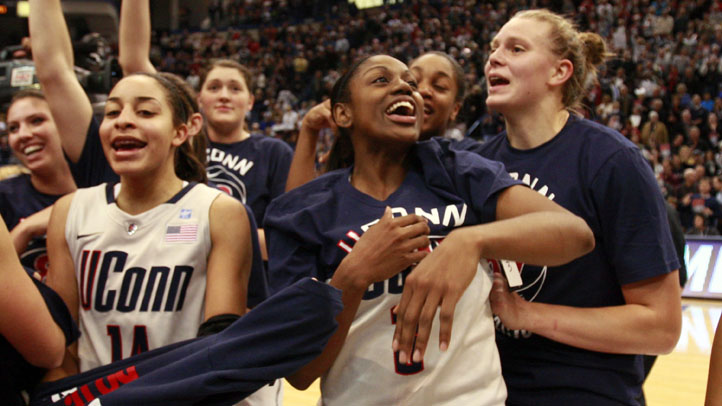 A night after the men's team made quick work of American International to open up their exhibition season, the women's basketball team will host Assumption to usher in 2011-12. There are plenty of storylines heading into the season, the biggest, perhaps, is how the Huskies will fare without Maya Moore, one of the best players in school history.

Despite a relatively young roster, UConn has plenty of veteran leadership. Senior Tiffany Hayes has the experience, but even sophomores Bria Hartley and Stefanie Dolson, who started virtually every game a season ago, know the pressures of playing in big games. But UConn also has one of the best freshman classes in the country, led by Kaleena Mosqueda-Lewis, a sharpshooter that should give UConn something it lacked last season: a consistent deep threat.

Caroline Doty, who missed the 2010-12 season with a knee injury, can also knock down threes, but a sprained left ankle will keep her out of the lineup against Assumption Thursday. Which means that Mosqueda-Lewis, who will wear Maya Moore' No. 23, will start in place of Doty.

Hayes, the only senior on the team, has also made her living from behind the arc. But this season is about more than filling up the basket. She's looking to be a leader.

"I think the best player in practice has been Tiffany Hayes, no question about it," Auriemma said, according to the Hartford Courant. "Tiffany Hayes, right now as a basketball player, is 50 percent better than she was at any point in her career. No question about it."

That's some pretty lofty praise. It's also scary to think that Hayes is that much better than she was in previous seasons, particularly given the talent around her.

"It's not one thing, it's everything," Auriemma continued. "Maybe it's the different way we are doing things this season. But she just has complete command in what she is doing and what we are doing. …We were just saying this the other day, how would you describe Tiffany Hayes? Well, she has become a way better basketball player, way better, a complete basketball player. It has been really good to see."

Hayes is acutely aware that her time in Storrs is almost up.

"I just think it [her improvement] is all about being a senior, knowing this is your last season. You have to bring your all," she said. "I think it has something to do with physical maturity, but it's also about knowing I am the only senior and need to be one of the leaders and that's helped my game, mentally and physically."