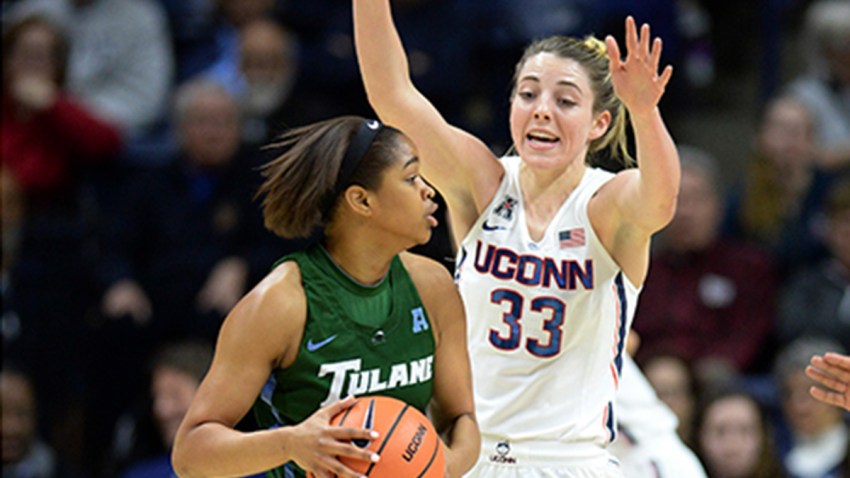 Katie Lou Samuelson scored 15 of her 19 points in the first half to lead UConn to a 98-45 rout of Tulane on Saturday and a 20-0 start to the season for the 11th time in program history.
Kia Nurse scored 14 for the Huskies (9-0 American Athletic Conference) and tied a -careerhigh with seven rebounds.
UConn had six players in double figures for the sixth time this season.
The Huskies shot 72 percent from the floor and outscored Tulane, 50-18, in the paint and 15-0 on the fast break.
Kayla Manuirirangi led Tulane (11-10, 3-5 American) with 13 points.
A year ago, Tulane came within three points of a major shocker in New Orleans, with a chance to tie UConn on a 3-point shot at the buzzer.
The Huskies put this one away early.
UConn never trailed, opening the game on an 11-3 run. The Huskies forced six turnovers in the first five minutes of the game and led 29-11 after the first quarter.
They scored the first 13 points of the second quarter to put the game away. It was 59-19 a minute into the second half.
UConn now has 25 straight 20-win seasons and has won at least 20 games in 29 seasons, all under coach Geno Auriemma.
BIG PICTURE:
UConn: Seven of the UConn teams that have started 20-0 have gone on to win national championships. The Huskies are undefeated in the history of the American Athletic Conference and have won 91 straight conference games, 79 in the regular season and 12 in the conference tournaments.
Tulane: Kolby Morgan set a Tulane record, staring for the 120th time in her career. The AAC's second-leading scorer, who had been averaging more than 21 points a game, was held to just two points on 1 of 10 shooting.
UP NEXT:
The Huskies travel to South Carolina to take on the defending national champions on Thursday night.
Copyright AP - Associated Press