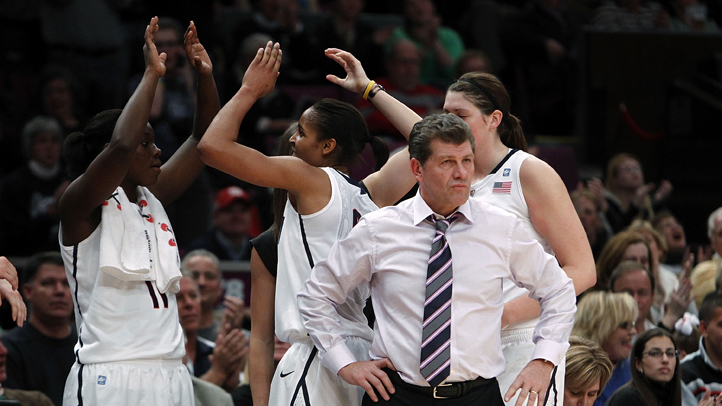 The UConn women's basketball team arrived safely in Italy earlier this week and they wasted little time getting down to business. On Thursday, sophomore Stefanie Dolson, who also played on the world champion U-19 US National Team this summer, scored a team-high 19 points and added eight rebounds as the Huskies rolled the Netherlands National Team, 73-53.

"Overall, I thought we played pretty well" said Dolson, according to the university press release. "Coach [Geno Auriemma] said we played well for 30 of the 40 minutes we were out there. Looking back, I can see that we were solid for a while and then would fall off a bit. Once we calmed down and stopped rushing things and just played together, we were really good."

Given that the Huskies have had just 10 practices, 30 minutes of solid basketball portends good things for the upcoming season. Other notable performers included sophomore Bria Hartley (16 points on 6-of-11 shooting), freshman Kaleena Mosqueda-Lewis (12 points, including three 3-pointers), freshman center Kiah Stokes (game-high nine rebounds), and senior Tiffany Hayes (10 points).

"We played well for our first game," said Hayes. "We really are a young team but this was better than I expected. I started out sluggish but was able to stay calm and started handling the flow of the game a lot better. As a team, and personally, we have to work to be consistent and stay within ourselves from start to finish."

While Auriemma wants to use the trip to prepare his players for a brutal regular-season schedule, he also wants them to experience life outside the United States. To that end, the team visited the Vatican before the Netherlands game, and spent three hours touring Vatican City, St. Peter's Basilica and the Sistine Chapel.
The Huskies tip it off again Friday against the Italian Select team.