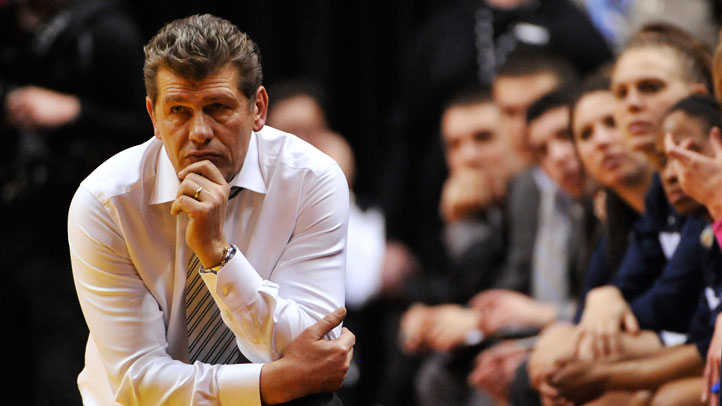 Given the way Geno Auriemma's bunch has played in recent weeks, it's hard to imagine that the nation's No. 2 team has lost twice this season. Auriemma will tell you that there are plenty of things that need fixing, but almost every other team in the country would love to have UConn's "problems."

UConn already has the record for most consecutive home victories (90) and now they're a game away from another record: 100 consecutive home wins. And as the Hartford Courant's John Altavilla writes, the Huskies will get that chance Saturday against St. John's when they'll also honor the team's lone senior, Tiffany Hayes.

"To be able to have a chance to [reach the milestone] on Senior Night? Good for Tiffany," said guard Caroline Doty, via Altavilla.

UConn's last loss at home came in 2007 against Rutgers. For some perspective, freshman Kaleena Mosqueda-Lewis was 13.

"You never want to lose in front of your home fans," said Hayes, who Altavilla points out never lost a home game in high school in Florida. "You have the home crowd, your friends and family. You don't want someone to come in and ruin that all for you. … It's incredible for me to think that I have the chance to do something like that. When I came here, I just expected to be a role player. It's amazing when you think about it."

Auriemma, as always, added perspective: "We tell all of our players that everyone wins their home game, although we know that isn't the case .But it's the teams that win their road games that win championships. We just try to take care of the first part [winning at home]. ... But it's not as easy as some people make it out to be."

One-hundred wins is nice, of course, but it's just a means to an end. If UConn doesn't win a national title no one will look back on this season as a resounding success because of another regular-season honor. The Huskies aren't some up-and-coming "just happy to be here" program; they're one of the basketball elite. Expectations are high, and Auriemma does a good job of instilling that philosophy in his players.

Which is why come February 27, the Huskies will be ready for their rematch with Notre Dame in the regular-season finale. The Fighting Irish account for UConn's only Big East loss this season so there will be sufficient motivation for a little payback.

As for the conference tournament, Auriemma admitted that he wouldn't have any problems with UConn not applying to host future postseason tourneys after disappointing turnouts last year.

Altavilla writes:
Earlier this week, the NCAA announced that UConn had been granted first- and second-round games at Gampel for the 2013 tournament. Auriemma wouldn't say he was happy, but he did not complain about it. Instead, he just wondered how much financial pressure can be put on fans who often must choose between the Big East tournament in Hartford or the NCAAs.
"They get whacked [financially] all the time," Auriemma said.