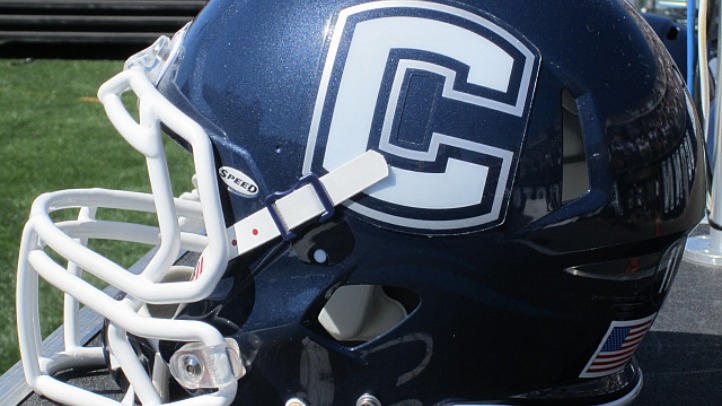 Last June, we first learned the news: UConn's best receiver, Mike Smith, had been ruled academically ineligible for the 2011 season. It was a huge blow given that the Huskies were already in the midst of an offensive makeover having lost Big East Offensive Player of the Year Jordan Todman to the NFL, and the team didn't have quarterback on the roster with more than one college start (and that guy, Michael Box, ended up transferring before the season).

Luckily, freshman running back Lyle McCombs was a pleasant surprise (he ended up a freshman All-American), but Johnny McEntee, the starting QB for most of the season, struggled.

And now, while Kashif Moore is gone, Smith is back and happy about it.

"It feels good to be back with the team, not on the scout team, but good to be back with the team," Smith told the Hartford Courant's Desmond Conner. "I went from a starter to someone who wasn't in the game plan, not playing. It was hard. I had to live with it. I made it through and I'm better for it today but it was hard."

Smith sat out last season after leading the team in receptions (46) and yards (615) in 2010. He was allowed to practice with the team during the 2011 season but he just couldn't play. "I do think this is a year that he can use to improve himself all the way around and then still have a final year of eligibility," Pasqualoni said at the time.

Smith admitted that he couldn't bring himself to attend any games but the home finale against Rutgers, and he told Conner that "I always felt like being out there I would have made a difference some kind of way."

But sometimes being forced to sit and watch the game from a different perspective makes you a better player. After Huskies receivers coach Matt Cersosimo provided the proper motivation, Smith was focused.

"Mike and I had long conversations like, OK, this is the situation you're involved in right now and you can take it one of two ways," Cersosimo said. "You can get better each day or you can sit and sulk about your situation and get worse. He really went out and worked on being the very best player he could. Not only was he out there trying to help our defense and give them the appropriate scout and look but he was working on his technique and job responsibilities as a wide receiver."

Clearly, this is great news for the Huskies offense. McCombs returns, and with spring practice less than a week old, the search is on for UConn's next starting quarterback. There are five candidates, including McEntee. Whoever lands the job will have the pleasure of throwing to Smith, who, in the long run, could be better off for missing last year (though we suspect he'd disagree).