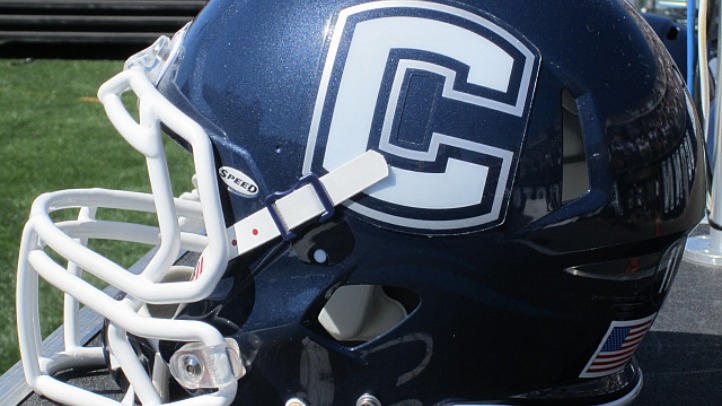 UConn wide receiver Mike Smith missed the 2011 season because he was declared academically ineligible. As the team's best pass catcher it was a blow to a young offense searching for an identity. Now Smith's back and looking forward to helping the Huskies improve on their 5-7 record. During a recent Q & A with ESPN.com Big East blogger Andrea Adelson, Smith talked about what he's been through and what's in store for him and the Huskies.

As for sitting out last year, Smith said "It was really frustrating because at times I felt I could do things to help the team win. I know I did it to myself. I was really upset, but once we got into Big East play, I said to myself, 'I have to move on to get ready for my chance to come back next year.'"

The Huskies also lost Kashif Moore, who could be drafted in the coming days, depleting an already thin wide receiver corps. "I can bring everything," Smith countered. "I'm not just one dimensional. I'm fast enough to go deep, and I play good in between the hashes. I can break tackles, get yards after catch. I'm very versatile. With the confidence I have right now, I think I have a chance to have a pretty good year this year."

And Smith is right. In 2010, he and Moore led the Huskies in receptions and he averaged more than 13.4 yards per catch. But any success he has in 2012 will be contingent on the currently unnamed starting quarterback. That job fell to Johnny McEntee last season but he'll face stiff competition from Scott McCummings, Michael Nebrich, Chandler Whitmer and Casey Cochran over the next few months (and after last Saturday's Blue-White game, Whitmer is the early favorite). So who does Smith prefer?

"I'm cool with all of them," he told Adelson. "When they're in a game, you have to adjust to the type of balls that they throw. We have a lot of work to do in the timing of the passing game. We can all make plays, but it's all about the timing, where the ball should be thrown, when the quarterback should be throwing out of his drop."

There's a lot to be decided between now and the start of training camp in August but that's how head coach Paul Pasqualoni likes it. In the meantime, Smith is just happy to back on the field. A sentiment that will no doubt be shared by whomever wins the starting QB gig.