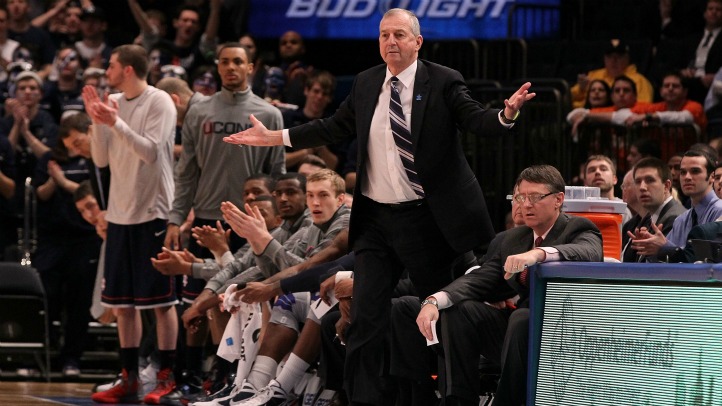 The Huskies' postseason winning streak, dating back to the 2011 Big East Tournament, was stopped at 13 games Thursday when top-seeded Syracuse eked out a 58-55 win the the quarterfinals.

It's been an eventful five weeks for the Huskies. They lost Jim Calhoun for most of February as he battled back pains before eventually undergoing surgery, they lost nine of 12 games before he returned for the season finale, and then everything seemed to come together -- UConn won three in a row heading into the Syracuse matchup.

One of the recurring themes this season is that the Huskies' inexperience has played a part in their inconsistent performance from one game to the next. That hasn't been the case since Calhoun returned. Instead, they have looked more like the team ranked No. 4 in the preseason.

"The anguish I feel is disappointment for them," Calhoun said of his team Wednesday. "They were primed mentally today to do something very special and almost pulled it off. ... No one can tell you that it wasn't a good team who was wearing blue today. Did we shoot great? No. Did we make great decisions? No. Did we play with great heart and great intensity and did we play for us and each other? Without a doubt, and I couldn't be prouder of them."

And now, 10 days removed from the "There's a real chance the Huskies won't qualify for the NCAA Tournament" conversations, they're virtually assured a spot in the field. Before the conference tournament, conventional wisdom was that UConn could expect to be a 10 or 11 seed. They'll know for certain Sunday evening.

"Well, let's see, [21] of our 33 games against top 100 competition. That's not a very good schedule, but they say it's No.1 in the country," Calhoun said via the Hartford Courant. We had 10 wins against the top 100. So I heard the Iona coach [Tim Cluess] said 'Don't put one of these Big East teams in.' I'm sure he's a great coach and I have a lot of respect for what he's done. But you've got to tighten those laces up [21] times. Against [Syracuse] three times, OK? Notre Dame twice. I can keep going. Florida State. … We probably have as many quality wins as anybody in our position."

The Courant's Jeff Jacobs notes that "According to RealtimeRPI.com, the Huskies (20-13) were 33rd in the latest RPI and their strength of schedule ranked third. Iona (25-7) was 41st, its strength of schedule 141st. Five of UConn's losses came against top 10 RPI teams: Syracuse (three), Marquette and Georgetown. The Huskies are 10-11 against teams in the top 100. Iona is 5-3."

And every bracketologist we've come across, that's more than enough to get the Huskies into the Big Dance.

Calhoun agrees. "I trust the basketball committee," he said, "and there's no doubt in my mind that they will look at it, and if what they say is true, 'We want you to play good people,' I think [21] out of [33] top 100 teams is probably a pretty good schedule. ... I'm proud of [UConn's players]. They're one of the top 30, 35 teams in the country and they belong."

By Sunday night, we'll know for sure.