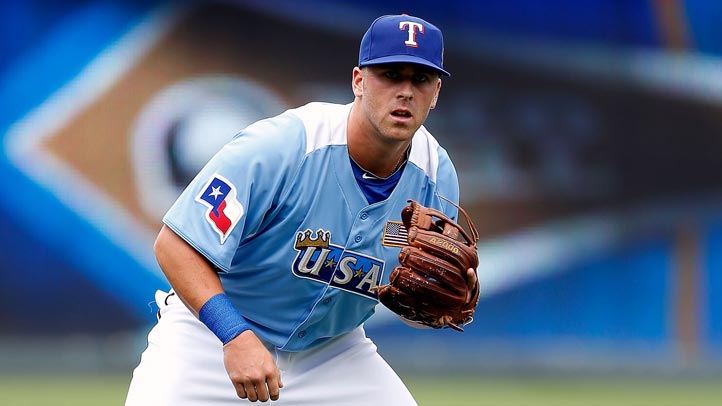 We rarely talk baseball here at the Dog House. Okay, we never do but that's because basketball -- men's and women's -- and football are the biggest shows in town even though the Huskies baseball team just missed qualifying for the College World Series in 2011. And now former UConn third baseman Mike Olt will make his Major League debut with the Texas Rangers Thursday night.

Olt was at Double-A Frisco where he led the league in home runs (28), slugging percentage (.579) and OPS (.977). He was second in RBI (82).

"We're so excited for Mike," UConn coach Jim Penders said according to the Hartford Courant. "He is a great example of what our program is all about and I'm glad his hard word and dedication are being rewarded. …

"He woke his mom and dad to tell them to pack for Texas early this morning," Penders continued. "He and his brother Brad got them flights to Dallas for his debut tonight. That is the type of son they have raised."

More details via the Courant:
Olt made previous stops in Myrtle Beach (A-Adv.), Spokane (A-S.S.) and with the AZL Rangers (Rook.) as well as a stint in the Arizona Fall League in 2011. He was drafted by Texas with the 49th overall selection as a first round supplementary pick in 2010, making him the first Husky taken in the first round since Nagy in 1988.
And now he'll become the 12th Husky to play in the Big Leagues. With third baseman Adrian Beltre signed through 2015, Olt's expected to start at first base against the Angels Thursday.

"I've never really explored positions to the extreme like I have this season, so it helps to just keep working on it and getting comfortable," Olt said in a phone interview with USA Today.