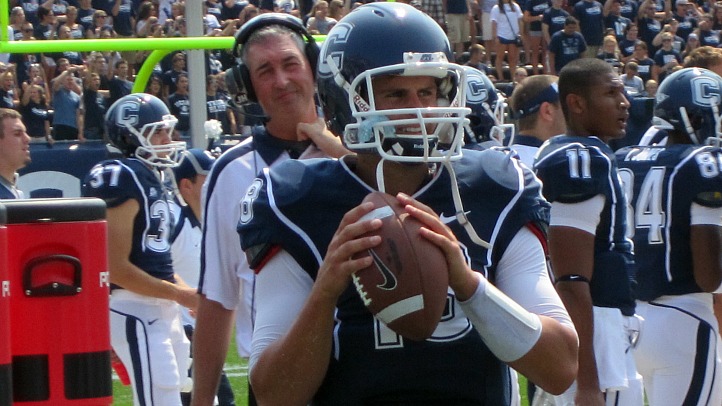 We've spent most of the season concerning ourselves with the Huskies' revolving door at quarterback. In the first few games, Johnny McEntee and Michael Nebrich seemed be in competition for the job, and Scott McCummings was the de facto wildcat quarterback. Two weeks ago, head coach Paul Pasqualoni officially named McEntee the starter although McCummings' role remains -- and for good reason: UConn needs to score points and they're not above doing it in less conventional ways.

But we're all familiar with this story. We also know that the offense -- starting with the quarterback -- is still a work in progress. But UConn's not the only team with issues under center. Their opponent eight days from now, the University of Pittsburgh, have their own problems.

Like the Huskies, the Panthers are 3-4 overall and 1-1 in the Big East. But come next Wednesday, Pitt head coach Todd Graham says that he'll go with just one quarterback, junior Todd Sunseri, who has been the starter although freshman Trey Anderson has also played in an effort to spark a Panthers team that has lost two in a row.

"We've had very inconsistent play at that position and that's caused us to do some things and I've really made some decisions that I wouldn't normally make," Graham said on the Big East coaches' media conference call. "Tino, by far and away, has the biggest grasp of what we're doing offensively from his experience in the spring and in the fall. And we've got to get it out of him."

Sunseri is coming off a solid 2010 season but has struggled to regain his form in 2011. He threw for 2,572 yards and 16 touchdowns a year ago, but has managed seven picks and only five touchdowns through the Panthers' first seven games. Consequently, Pitt's passing offense ranks 96th in the country.

Still, Sunseri has the job for now.

"I think that switching the quarterbacks in and out has created more distractions than it has positives," Todd Graham said. "The idea is to get a spark. Trey has done a good job, has a lot of potential, is going to be a good quarterback for us in the future. I think he's got a great future. … So our focus is, let's get it out of Tino, let's go to work. I think that really hurt us in the last game, just switching quarterbacks so much."

It's certainly something Huskies fans can relate to. That said, picking a QB and sticking with him isn't some magic elixir. McEntee has shown improvement but he still has a long way to go.