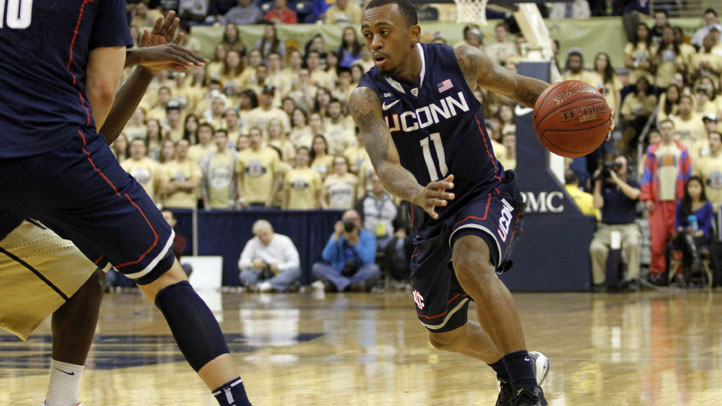 It is, as they say, go time. The Huskies' 2013-14 season kicks off Friday at 6:30 pm ET at the Barclays Center when they face the Maryland Terrapins in a nationally televised game.

Terps coach Mark Turgeon says "It's great for both programs to be part of a game like this, with the visibility. It's a lot better than just playing a cupcake to start the season."

And UConn senior point guard Shabazz Napier looks forward to the competition.

"We're better off playing a good, solid team," he said, via the Hartford Courant. "There's no reason to be playing a weaker team at this point, that's not going to tell us how well we're doing."

A year ago, the upstart Huskies with then-first-year coach Kevin Ollie, traveled to Germany to beat Michigan St. in the season opener, which was also televised on ESPN. Now, UConn is free of NCAA sanctions, return all five starters, and have a solid freshman class that should contribute immediately. Put differently: There's a lot to like about this team, one that begins the season ranked 19th.

"We understand, we've been through a lot," Napier said of UConn's upperclassmen. "Ups and downs. We've seen a lot that a lot of players may not be able to see. We've been through wars that a lot of players have never been through. We understand college basketball, to a certain extent, much better than a lot of other players."

And that experience will weigh heavily in just how this season unfolds. Napier and Ryan Boatright will be the leaders in the backcourt, and DeAndre Daniels, one of the nation's best-kept secrets, could be one of its best power forwards by the end of the year. But these are all storylines that will play out in the coming weeks and months.

For now, finally, we can just celebrate basketball's return.

"If you're not excited about playing on ESPN, playing in the Barclays Center, with all your peers watching, I can't get you excited," Ollie said. … "I know I'm excited."