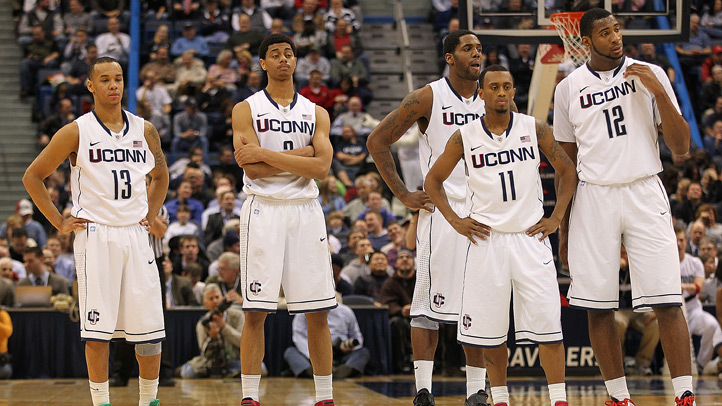 We've spent recent weeks comparing this year's UConn team to the one that preceded it. The 2010-11 version limped into the Big East Tournament, flipped a switch, reeled off 11 wins in a row and won a national title.

It's unfair to hold up any Huskies team to that group because that late-season stretch was so improbable. And yet that's exactly what we do, arm-waving our way past the fact that Kemba Walker is now in the NBA and Jim Calhoun has been sidelined for much of February with a serious back injury.

But as Lou Holtz once said, "Don't tell people your problems: half don't care, the other half are glad you got 'em." Every team has issues -- injuries, depth, talent -- and the Huskies won't get any pity for their plight. They have Jeremy Lamb, a preseason All-American, and Andre Drummond, the nation's top recruit. Things could be much, much worse. (Which, incidentally, could be the case in 12 months when UConn could be ineligible for the 2013 NCAA Tournament because of chronically low APR scores.)

The latter is a problem for another time. For now, the Huskies have to focus on their three remaining regular-season games. Because if they stumble their way into the Big East Tourney, their NCAA Tourney fate may have already been decided for them. First up: Syracuse is coming to town Saturday night. Here's ESPN.com's Andy Katz:
The Huskies had new life after Shabazz Napier's 3-point heave went in to beat Villanova Monday night. The Orange have been as good, if not better, on the road than at home -- other than at Notre Dame. Syracuse should dominate the bench scoring. The Huskies have a chance if Andre Drummond and Alex Oriakhi can win the post, and Napier and Ryan Boatright can get into the zone with floaters to score. UConn is in desperate mode to get this win.
Desperate doesn't begin to explain it. The Huskies will finish up with Providence ant Pitt, two games they should win, but that doesn't mean they shouldn't show up for the Orange. It'll be a primetime, nationally televised game, and if nothing else, it'll be a preview of what UConn can expect in the conference tournament.

As Katz notes, if Drummond and Oriakhi can win the post, UConn has a chance. But here's the thing: we shouldn't even have to bring that up. It should be a given that Drummond and Oriakhi win the post every game. Instead, Drummond's played at times like a freshman and Oriakhi, as he did a season ago, disappears for long stretches.

If should go without saying but just in case: if UConn is going to mount a run, they'll need contributions from everybody. And Saturday night is as good a time as any to start.