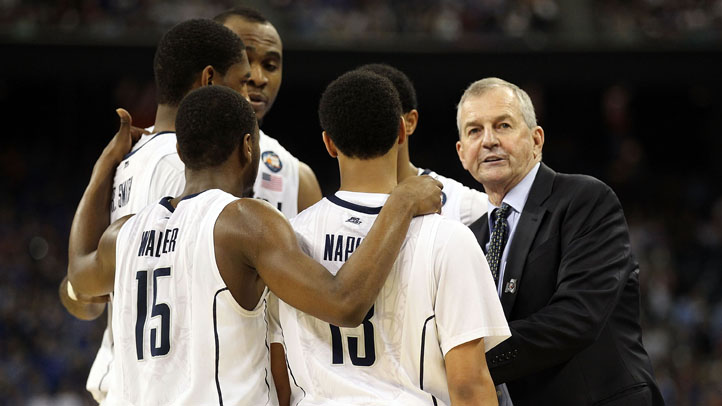 We imagine that serving as the head coach of a big-time Division I basketball program for a quarter-century, not to mention winning three national titles since 1999, is a lot like being a head of state. The responsibilities are obviously different, and decisions usually don't affect people's lives, at least in the way health care reform might.

But in terms of a seemingly full schedule, even in the off season, and the enthusiasm with which constituents flock to hear Jim Calhoun speak publicly, it's clear that he's both popular and busy. Take last week, for example when, as the Hartford Courant's Mike Anthony details, "Calhoun woke up at 4 a.m. Thursday. By early afternoon, when he arrived at CIGNA headquarters to promote an upcoming charity bike event, he had spent time with his grandchildren at an elementary school and made another appearance in Hartford. This was stop three of five. He was to take his wife, Pat, out for dinner before attending a play."

Given Calhoun's schedule the last month and a half (which included everything from a White House visit to an interview with Charlie Rose to throwing out the first pitch at Fenway Park, as well as some recruiting), he shows no signs of slowing down. More than that, he seems like the type of person who couldn't just sit around. It's not in his DNA, even at 69.
That observation leads to inevitable questions about his plans for next season. Shortly after the Huskies won the national championship nearly two months ago, Calhoun twice said he would be back in 2011-2012, before subsequently deciding that he would take some time with the decision. The last six weeks or so Calhoun has been noncommittal about the future, only saying he should know something this summer.

"I am planning to coach next year," Calhoun told the audience at CIGNA. Although, as the Anthony notes in the Courant, "This was not an official announcement. But as Calhoun told a crowded cafeteria at CIGNA, actions speak louder than words."

Calhoun, sounding every bit like a man who intends to keep working, continued: "You need to be excited for what you do," he told CIGNA employees, trying to motivate them during a speech that focused on the Jim Calhoun Cancer Challenge Ride And Walk, which will be held June 11 in Simsbury. "I've done this for 40 years. I'm excited every day."

In addition to motivating the masses, Calhoun also addressed the Huskies' Academic Progress Rates, which fell below the NCAA standard and cost UConn two scholarships next fall.

"I've already approached our new president [Susan Herbst] about changes we need to accommodate, to help our kids get through the demanding rigors. ... Clearly within our university there are solutions to our problem at UConn. Our culture right now is the best it's been in 10 years. It's all of our responsibility — all of ours."

The coach also said he wasn't sure if the Huskies would use their last remaining scholarship (made available by Jamal Coombs-McDaniel's decision to transfer), although there are needs to fill and available talent to fill them. That said, Calhoun sounds excited about UConn's only incoming freshman, guard Ryan Boatright.

"Jeremy [Lamb] was talking about how he's the best jumper on the team now. … I saw [Boatright] score 63 [points in a high school game] and he's almost Stanley [Robinson]-like. Freaky."

Summer is officially a few weeks off, but Calhoun, for the first time since the Huskies won the national title, has stated publicly that he'll coach next season. It's a start.