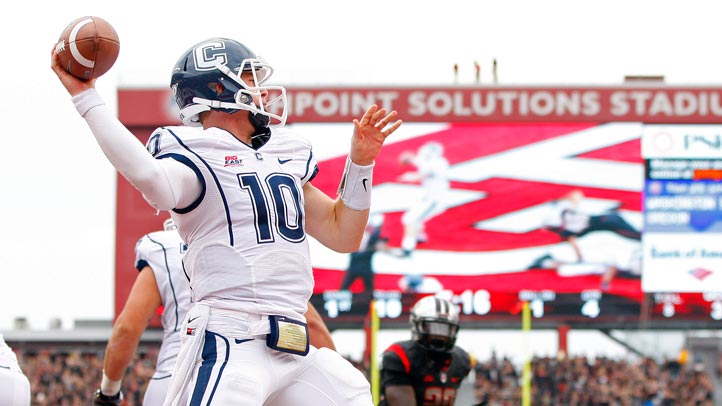 When we first saw that USA Today has the UConn football team ranked 92nd in the country heading into the 2013 season, our initial reaction was, "Yeah, that sounds about right."

Honestly, we wouldn't have been surprised if the Huskies were lower. After all, half the defense was lost to graduation and the man responsible for that unit's success, defensive coordinator Don Brown, has moved on to Boston College. Then there's the offense, which has yet to find its groove under coach Paul Pasqualoni. Or, more specifically, offensive coordinator George DeLeone, which may explain why Pasqualoni hired TJ Weist for the job.

But for Weist to have success, he'll need consistency at quarterback. That's a luxury DeLeone didn't have during the 2011 season, but redshirt sophomore Chandler Whitmer showed glimpses of potential last season. DeLeone just didn't know what to do with it. Of course, it didn't help that the running game was nonexistent and pass protection was a weekly problem.

More on the all-too-familiar quarterback problems from USA Today's Paul Myerberg:
In the past six seasons, UConn quarterbacks have combined to throw 69 touchdowns against 72 interceptions while averaging 185.67 yards per game. Over the same span, the Huskies' defense has allowed 91 passing touchdowns against 97 interceptions while holding opposing quarterbacks to an average of 218.39 yards per game.

One of these things is not like the other. On one hand, you have an annual overachiever of a defense, one that has only once in the last six seasons ranked outside the top half of the Football Bowl Subdivision – a 62nd-place finish in 2009 – and twice, in 2012 and 2008, ranked among the top nine. On the other, you have a cross-eyed offense that can't get out of its own way.
Unlike past seasons, Pasqualoni has to be concerned about both sides of the ball. Also unlike past seasons, if he puts up another 5-7 effort in 2013, it's fair to assume that he'll be out of a job come January.