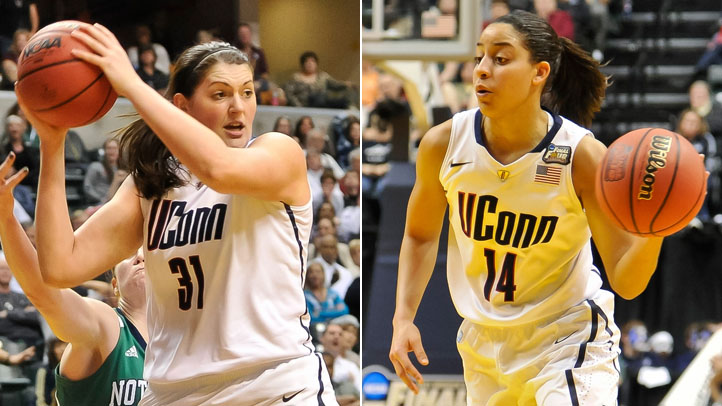 According to the schedule, yes, we're officially in the off season. But basketball is a year-round sport, and for some (future) members of the UConn women's basketball team that means representing their country while improving their game.

On Sunday, the Under-19 US National Team wrapped up five days of training with a 49-37 exhibition victory over Brazil's U-19 team. Then coach Jennifer Rizzotti had the unenviable task of reducing the 15-man roster down to 12.

"This was very difficult and that's a credit to the girls, how hard they worked and how committed they were in their desire to want to be on the team," said Rizzotti, who is also the University of Hartford head coach. "It makes this process really hard. I'm excited about finally being down to 12 and thinking over the next few weeks about what I can do with this group of kids to make sure we are as prepared as we can be heading down to Chile and try to win a gold medal."



Two weeks ago, we mentioned that the 15-man roster was full of current and future Huskies: rising sophomores Bria Hartley and Stefanie Dolson; incoming freshman Kaleena Mosqueda-Lewis; 2012 commitments Moriah Jefferson, Breanna Stewart and Morgan Tuck; and 2013 recruit Diamond DeShields.

On Sunday, Rizzotti's final roster included all of them except Jefferson, who missed making the squad for the third time in as many years. It's worth remembering that Jefferson just finished her junior season in high school; her best basketball-playing years are in front of her. And if her recent comments are any indication, she will use this as motivation going forward.

"It fuels me knowing I didn't make [the team the last two times]," Jefferson said last month. "When you come out for something like this, you want to make it. Honestly, I give my best, 110 percent, every time I get on the court. Being cut hasn't really changed anything about me, it just makes me go a little harder."
In the long run, this is good news for UConn and bad news for opponents, including Hartford, where Rizzotti coaches during the season.