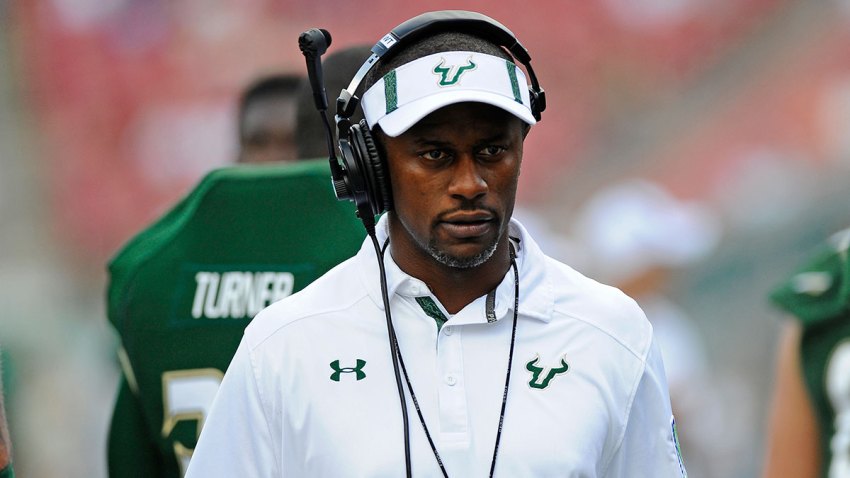 The University of South Florida and UConn are separated by more than 1,200 miles but the football programs -- which will square off Friday night at 8 p.m. on ESPN have plenty in common. Namely: Both teams have new coaches trying to breathe life back into programs that at one time were in the national conversation.

Since playing in the Fiesta Bowl following the 2010 season, the Huskies have gone 13-23. And the Bulls, which didn't have a football program 20 years ago, ranked No. 2 in the country during the 2007 season.

''You hear a lot about No. 2, No. 2, No. 2. That's not fair to our guys right now to compare them to No. 2. We're not that team right now,'' said USF coach Willie Taggart, via the Associated Press. ''We're trying to build that foundation and get it back to that.''

Like UConn, USF is 1-2 this season, and Taggart sounds many of the same tones we hear from Bob Diaco when he talks about rebuilding what once was.

''Our football team is still fragile. ... We need to continue to find as much success as we can and be as positive as we can, keep going in that direction,'' Taggart said.

That's right out of the Diaco playbook.

'This whole year is building. We can't do anything to compromise our development. We can't do anything to compromise our ability to get better,'' Diaco said. ''We need to get batter as a team every week. We need to get better as a team at the end of the season. 'That has to happen. That will happen.''

Interestingly, one of the best chances for a win -- for both teams -- will come when they face off Friday night.