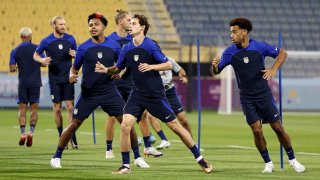 Weston McKennie is the latest American to join the English Premier League.
After days of speculation, the USMNT midfielder officially signed a season-long loan transfer with Leeds United from Juventus. According to ESPN, the loan fee is in the region of £1.5 million but Leeds will have the option to sign him to a £35 million deal at the end of the season.
The move reunites McKennie with fellow national team midfielders Brenden Aaronson and Tyler Adams.
Adams wasted no time welcoming McKennie to the club.
Speaking on the adjustment to life in Leeds, McKennie joked that when he suggested moving near Adams, the USMNT captain said, "No, not close to me."
McKennie is Leeds' third signing of the January transfer window and enters with high expectations.
The club spent nearly two decades out of the Premier League before being promoted for the 2021/22 season. Under manager Jesse Marsch, another American, the team is 15th in the league with 18 points this season.
McKennie started his professional career with FC Schalke 04 of the Bundesliga in 2004. Although he considered Little Elm, Texas – outside of Dallas – his hometown, the 24-year-old lived in Germany from age six to nine, an experience he often credited for inspiring his interest in the sport.
After three seasons in Germany, McKennie made history as the first American to play for Juventus. The Italian own a record 36 Serie A titles and allowed McKennie to play alongside names such as Adrien Rabiot, Matthijs de Ligt and Paulo Dybala.
In three years with the club, McKennie logged 13 goals and five assists in 96 appearances.
Loan rumors picked up momentum following McKennie's World Cup debut in Qatar, where he appeared in all four games for the USMNT. During the team's must-win group play game against Iran, McKennie started the series that ended in Christian Pulisic recording the team's lone goal of the day.
Leeds is now the Premier League club with the most Americans, a record they previously shared with Chelsea (Christian Pulisic and Gabriel Slonina) and Fulham (Antonee Robinson and Tim Ream). Matt Turner of Arsenal and Chris Richards of Crystal Palace round out the group of Americans playing in England.
McKennie's first test with Leeds, if he is selected, will be this Sunday against Nottingham Forest before they gear up for a midweek match against the surging Manchester United.