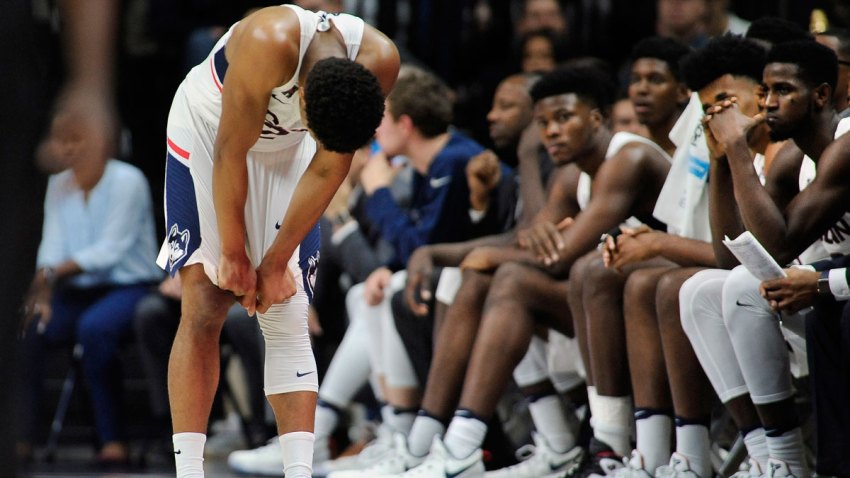 Wagner won a regular-season conference title and a game in the NIT last spring. The Seahawks say none of that compares to beating No. 18 UConn.
Mike Aaman and Romone Saunders scored 15 points each to lead the Seahawks to a 67-58 victory over the Huskies in the season opener for both teams on Friday night.
"This is one of the biggest wins in history," said Aaman, a 6-foot-8 senior who had nine rebounds. "The win in the NIT was big, but this was against a ranked team to start out our season, so it was a very big win for us."
Corey Henson added 10 points for Wagner, which beat a ranked team for just the second time in program history (Pittsburgh in 2011). They also handed the Huskies their first loss in an opening game on campus. UConn came in 27-0 in such contests.
Transfer Terry Larrier had 19 points and freshman Alterique Gilbert added 14 to lead the Huskies.
UConn trailed by three points at halftime and went more than 5 minutes without a basket to open the second half before Jalen Adams' tip-in made it 41-37.
Wagner scored the next eight, pushing the lead to 49-37 on a 3-pointer by Saunders.
But Saunders landed awkwardly making a pass under the basket a short time later and had to be helped to the bench.
He didn't return and UConn turned up the defensive pressure.
The Huskies went on a 12-0 run to tie the game, holding Wagner without a point for almost 7 minutes.
But Wagner responded, outscoring the Huskies 18-9 from there. Henson's 3-pointer with just over 3 minutes to play started a 7-0 run that put the game out of reach.
"That was a monumental play that just gave us confidence to finish," he said.
Wagner, which doesn't have a player taller than 6-8, outrebounded UConn 37-33. Their defense held the Huskies to just five second-half field goals.
"I just think it was a lack of intensity, lack of effort on our part," said Larrier, who was playing his first game since transferring from VCU before last season. "We gave those guys confidence early on and a team like that, they're dangerous."
BIG PICTURE
Wagner: The Seahawks never looked rattled or intimidated by UConn. Wagner has eight players back from a team that won the Northeast Conference regular season title and upset St. Bonaventure in the first round of the NIT.
UConn: UConn showed it has some work to do to mesh its highly talented freshmen class with its more experienced players. The Huskies shot just 35.7 percent from the field, 26.7 percent in the second half. UConn allowed nine 3-pointers and were often slow on the defensive switches, leaving the experienced Seahawks with open jumpers.
POLL IMPLICATIONS:
UConn likely will fall out of the Top 25. The Huskies won't have a chance to impress voters until they face Oklahoma State in Hawaii.
NERVOUS PURVIS?
UConn senior guard Rodney Purvis had just five points and no assists. He and sophomore Jalen Adams (nine points, five assists) were a combined 6 of 22 from the field. "We've got to get better," UConn coach Kevin Ollie said. "We can't have our two top guards going 6 for 22, cause I count on those guys. Both of them can't have a bad night."
EARLY SIGNINGS: UConn signed a guard and two forwards to national letters of intent on Thursday. Makai Ashton-Langford is a highly regarded 6-2 point guard from Worcester, Massachusetts, who played AAU basketball with Jalen Adams. Tyler Polley is the 6-8 son of former NFL linebacker Tommy Polley and 6-9 Josh Carlton is a 230-pound inside presence who plays at DeMatha Catholic in Maryland.
UP NEXT
Wagner: The Seahawks head to Massachusetts for a game on Monday against UMass-Lowell. Their home opener comes Nov. 19 against Fairfield.
UConn: The Huskies have another home game Monday against Northeastern before heading west. The Huskies will play in Ollie's hometown of Los Angeles on Nov. 17 before heading to Hawaii and the Maui Jim Maui Invitational.
Copyright AP - Associated Press