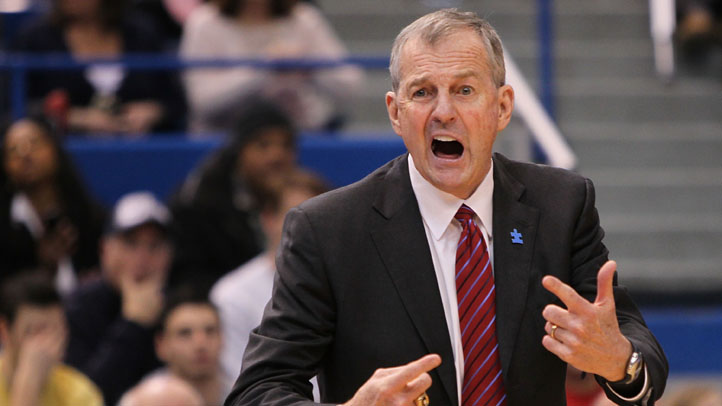 It really is hard to believe. Thanks to one Big East coach, Kemba Walker wasn't a unanimous all-conference first-team selection. Maybe we're splitting hairs -- first-team honors are first-team honors, no matter how you get there -- but then again, maybe we're not.

Walker has everything to do with UConn's 21 wins this season, and without him, it's not an exaggeration to think that the Huskies might look more like DePaul, their first-round opponent, an outfit that managed seven wins all year, only one of which came in the Big East.

And coach Jim Calhoun agrees.

"Ridiculous. Ridiculous," Calhoun said. "I don't know what league they were watching, or what their personal -- someone mentioned right before we played them, one team, that he had committed to them and they were still upset three years later. My advice is, get over it. And don't penalize the kid for the season he had. In the final analysis, in Kemba's life, it's not going to make any difference. He's a first-team all-Big East player. He'll probably have a longer career than that coach who didn't vote for him."

Apparently, Calhoun is referring to Cincinnati coach Mark Cronin, who at one time thought that Walker was going to be a Bearcat. According to a story that appeared in the Cincinnati Enquirer two weeks ago, Cronin said "[Recruiting Walker was] going great for a year and a half until the last week. I was devastated because I knew how good he was."

UConn recruited Walker late in the process and eventually landed him.
"I understood at the time," Cronin told the Enquirer. "We're in last place. They're in first place. They've got Hasheem (Thabeet) and Jeff Adrien and all those guys. They're loaded and we're empty. They're close to home and we're not. I don't think it was that hard a decision for him."

As the Hartford Courant's Mike Anthony writes, Cronin doesn't sound bitter and none of us -- Calhoun included -- have any idea how the coaches voted. That said, Calhoun's right to wonder how a rational person -- even someone with just a passing interest in college basketball -- would think that Walker wasn't a unanimous first-teamer.

Whatever, Kemba was unfazed. Nor did he have a problem with Notre Dame's Ben Hansbrough as the only player selected unanimously.

"I think Ben really deserved it," Walker said. "A lot of people don't think that team is good but he made them real good. I'm not disappointed. I thought teams did a great job of stopping me at times, and guys had game plans against me. But for the most part, I wanted to get Coach [Calhoun] respect and I feel that's what I did. Teams made sure I didn't hurt them. They made sure other guys hurt them. I commanded respect. And I got it."

In the end, none of this matters. UConn showing well in the conference and NCAA tournaments are what are important. That doesn't make the slight (perceived or otherwise) against Walker any less annoying, but it will be soon forgotten if the Huskies can get hot in the coming weeks.