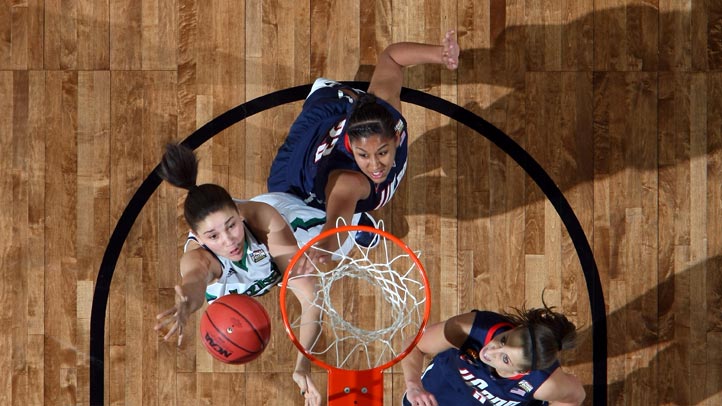 Inconceivable might be too strong a word, but given how well the Huskies have played this season, it's pretty surprising that they fell to Notre Dame over the weekend. Of course, it's not like the Fighting Irish are a bunch of cream puffs; they came into the game as the country's fifth-ranked team and now have a case for the top spot after their 73-72 victory.

After the game, Notre Dame's best players -- and one of the top guards in the country -- Skylar Diggins talked about the rivalry.

"I think when we play (UConn), there is a lot on the line, whether it is a Big East Championship or them being ranked higher than us or in the Final Four," she said. "This is good for us. The program, the history of the program, how many National Championships they have, how many All-Americans they've had that have been successful at the next level. I think a lot of people are afraid of the name on the front of the jersey and I don't think we are anymore. I thought we did a good job of showing that and being tough."

Diggins is right. The win is good for Notre Dame. But more than that, it's good for women's college basketball, which unlike the men's game, generally has a handful of dominant programs -- and everybody else.

It's rare that a beat reporter points out that a loss by the hometown team is good (well, unless you're on the New York Jets' beat and you want the easy story), but the Hartford Courant's John Altavilla makes a strong argument why UConn's loss to Notre Dame is good for everybody in the long run.
Truth is, women's basketball really needed this. The Big East, or what currently remains of it, certainly needed it during this uncertain time. What they needed a game to feel good about between national powers, arch-rivals, conference antagonists that pulsed and punched you from start to finish.

They needed excitement, suspense and, yes, a result that went undecided until the final moments.

What they didn't need was UConn-Stanford. No, not again. The sport needed a credible contest Saturday on CBS, the network of Cronkite, as far from ESPNU in national significance as Pluto is to Earth in miles.

This was show time for women's basketball. And show time it was.
That's a fantastic point. And one of the takeaways is that a loss does more good for the conference and the sport than harm for the Huskies. The goal is still to win another championship, but if there's some drama along the way, even better.