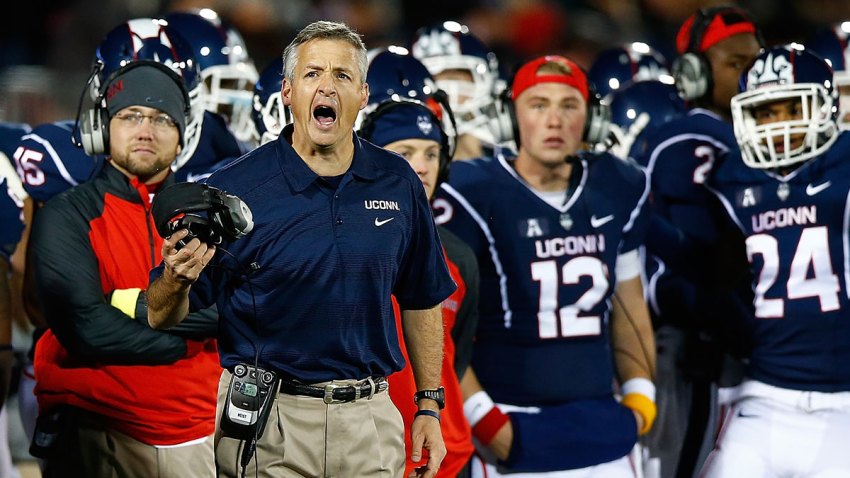 A year ago, T.J. Weist was supposed to be the guy who was going to save UConn's offense from George DeLeone. Instead, Weist, originally hired as the offensive coordinator after the 2012 season, found himself as the interim head coach after Paul Pasquloni was fired after an 0-4 start.

Things got worse before they got better -- the Huskies were 0-9 before winning their final three games -- and when it was over, the university decided to find Pasqualoni's full-time replacement from outside, hiring Notre Dame defensive coordinator Bob Diaco and parting ways with Weist after less than a year.

But after a quarter-century of coaching in some capacity, Weist, who lives in Michigan, is taking a break this fall.

"I'm taking the season off for a couple of reasons," Weist told the Hartford Courant. "I really enjoyed being a head coach and I obviously I prefer to be a head coach again. We also have some family issues. I've been coaching for 25 years and I haven't lived around our family. With a 6-year-old son we wanted to get him around [his grandparents] with the time we have left.

"I didn't know how I'd feel, how I'd react, not being in camp, not being with the team. The biggest thing I miss is the players. Football is football. Relationships mean everything."

Even though Weist left UConn under less-than-ideal circumstances, he spoke glowingly of his time in Storrs.

"UConn was a great experience for us," Weist said. "I really hope you emphasize that. We lived a block off-campus in a great house. My wife could walk to work. I enjoyed the staff and the character of the group, and for me it was important to work for a head coach who put an emphasis on family and relationships. I can't thank Warde [Manuel], Susan Herbst and UConn people enough for how they treated us.

"As offensive coordinator, going into the season I felt a responsibility to really produce. We knew we were under pressure. We knew there was a situation with Coach Pasqualoni. It was a very emotional time for me. Tell it like it is, 0-4. That's my offense. That's my responsibility."

It eventually cost Weist his job, but only for the time being. Now it's Diaco's team, though Weist hopes to return to coaching when the time is right.

"I want to make sure my friends in the profession know that even though I'm not coaching this fall, I still want to coach," Weist said. "Nobody knows what jobs, head, coordinator, assistant, come open really until December. I'm not going to sit back and wait. I'm also going to study all my head coaching and coordinator playbooks, notebooks and plans, compare them to other teams, be ready for everything. I'm using the time to get a different perspective."