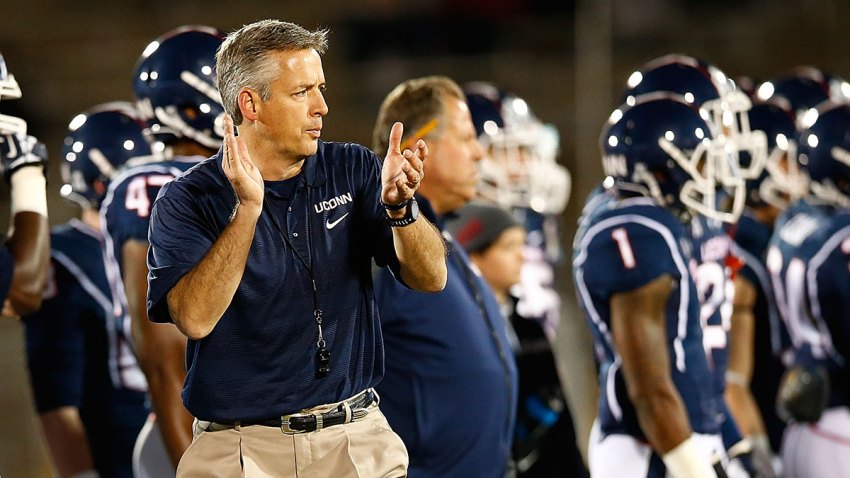 This has been a weird 12 months for T.J. Weist. He arrived in Storrs to revitalize the Huskies' offense after it became clear that Paul Pasqualoni's longtime friend and assistant George DeLeone wasn't going to get it done. Then, a month into the season, Weist was elevated to interim head coach after UConn's 0-4 start led to Pasqualoni's dismissal.

The Huskies sputtered through October before finally earning a win nine games into the season. Two wins later and the 2013 season was in the books, the university officially began the search for a new coach -- one that Weist made clear he wanted -- and Weist's future was up in the air.

Now, after meeting Monday with new coach Bob Diaco, Weist will not be back at UConn. In fact, the conversation never even got to that point.

"I think, obviously, I believe our staff did a great job, especially at the end, and I wish more guys would have been retained, but that's really up to Bob and building his staff," Weist said, via the Hartford Courant. "He's a good guy, really is. I understand, as being the head coach, you've got to have your own people, so it's fully understandable he would go in the direction he best sees fit. ...

"I made the choice I was going to pursue other opportunities even though me and my wife love this university. We bought a house a block off campus. My wife works in the business school. We really fell in love with this place, but I thought it was best to make a decision to pursue other opportunities. I want to be a head coach. Now that I've been a head coach, I want to do it and know I can do it.

"I know there are a limited number of jobs out there. If it doesn't happen this year, it doesn't happen, but I want to be a head coach."

For now, Weist plans to stay in Connecticut.

"We'll just be here until we decide what we're going to do, but I love the players," he said. "I've become close with a lot of them and their families. I've had unbelievable support from everyone throughout the campus -- administrators, alumni, players, their families, the coaches, it could not have been a better situation. I believe we did it the right way, built a very positive attitude, sent the seniors off right. It was fun. I thank (athletic director) Warde (Manuel) and (UConn President) Susan Herbst for the opportunity they gave me here, and I wish Bob nothing but the best."
Weist deserves a lot of credit for what he accomplished in 2013 under some trying circumstances. The record doesn't reflect it, but he didn't allow his players to quit, or the locker room to implode, but instead helped lead the Huskies to a three-game winning streak to end the year. All things considered, that's pretty impressive.