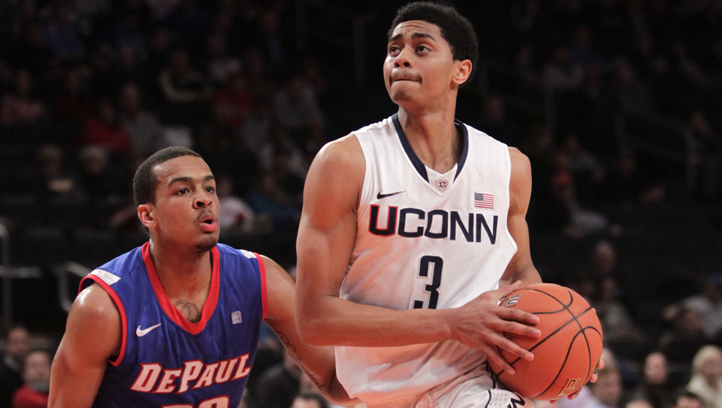 It's the dead period after the college basketball season ends and football's spring game is in the books and there's really not much on the horizon outside of recruiting or draft news. And with two former Huskies entering the NBA Draft, we suspect we'll be hearing a lot about that in the coming weeks.

With that as the backdrop, we thought we'd take a look at several mock drafts and where Jeremy Lamb and Andre Drummond might find themselves next season. First up: CBSSports.com's Jeff Goodman.

He has Drummond, the 6-10, 270-pounder, going third to the Cavs (remember, the NBA Draft lottery will change the draft order; this list is based on regular-season records) and he writes: "Drummond is an enigma -- as he has been blessed or cursed with the "Nice Guy Syndrome." I'm not sure he truly loves basketball, but it's difficult to pass up a 6-foot-10, 270-pound kid who possesses the physical tools of Drummond. It'll take the right coach -- and Byron Scott could be just the guy."

Lamb, meanwhile, could be headed for the New Orleans Hornets at No. 10. His rationale: "The Hornets could use a talented wing -- and Lamb is oozing with potential. He can score in a variety of ways, including making shots from the perimeter."

Drummond is the second big man off the board after Kentucky's Anthony Davis, the consensus first-overall pick. And Lamb is the third shooting guard to go, following Florida's Bradley Beal (No. 2 to the Wizards) and Duke's Austin Rivers (No. 8 to the Raptors).

Last year, Kemba Walker was the story for UConn fans. He had single-handedly led the Huskies to an improbable national championship and there were discussions that he had propelled himself into a top-10 draft pick (Walker ended up going ninth to the Bobcats). The only issue was if he would go off the board before Jimmer Fredette (he went 10th to the Bucks before being traded to the Kings).

And while the 2011-12 Huskies' expectations didn't match the results, they'll likely have two NBA lottery picks by the time it's all said and done.