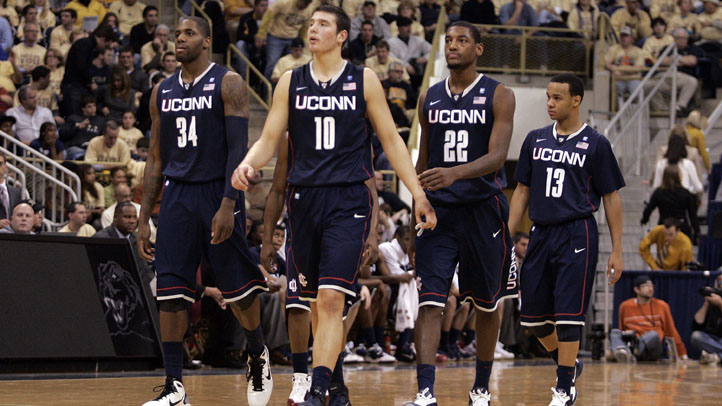 The Huskies' unexpected run to a national title was spearheaded by Kemba Walker. Rational people can agree on this. But Walker didn't do it alone (even if it looked like it at times).
Freshmen Jeremy Lamb, Roscoe Smith and Shabazz Napier showed marked improvement from November to February, sophomore Alex Oriakhi became more consistent, and the role players -- from senior Donnell Beverly to freshmen Tyler Olander and Niels Giffey -- did their jobs. Which is to say: they played defense, rebounded, set screens and for the most part avoided turnovers. The little things go a long way in accomplishing the big goals.

But it was the "role player" label that led to Thursday's announcement that Jamal Coombs-McDaniel would transfer. (Also not helping: his recent arrest on marijuana possession charges.) Coach Jim Calhoun and Coombs-McDaniel have clashed since Day 1. In general, the veteran, hall-of-fame coach will win those battles every time. So after two uneven years in Storrs in which Coombs-McDaniel appeared in all 41 games but started just twice, he's ready to move on.

The Hartford Courant's Mike Anthony writes that Coombs-McDaniel never felt like he belonged at UConn. He and best friend Alex Oriakhi made oral commitments to the Huskies before their sophomore year of high school. As graduation approached, Calhoun had to reassure Coombs-McDaniel that he was just as important to UConn's future as Oriakhi.

"Quite frankly, Jamal was the throw-in," Calhoun said at the Final Four. "When you saw Alex, even as a young guy, great student and great kid -- Jamal was a good student and a good kid, too -- but Alex seemed to be the limelight guy. He was the one who was the McDonald's All-American, a big, strong physical kid. They wanted to go to school together. The more we saw of Jamal -- I remember taking a trip early in his senior year just to reassure him that we really wanted him. We had to reassure him that he was an important part of our recruiting process."

No word on where Coombs-McDaniel will transfer, but if it's a Division I program he will have to sit out the 2012-2013 season.

As for the Huskies, they head into the summer with one more question to answer. Calhoun hasn't yet announced his coaching plans for the fall, the NCAA could sanction the team for poor academic performance, and one of the Huskies' best players off the bench is leaving.

Even without Coombs-McDaniel, UConn returns Lamb, Napier, Smith and Oriakhi. That leaves a hole in the starting lineup, ones that could be filled by a steady rotation of guys named Olander, Giffey, and incoming freshman point guard Ryan Boatright.
But as we have written several times in recent weeks, that doesn't leave the team much wiggle room. The difference between winning 20 games and 12 games is razor-thin. The short bench, looming foul troubles to key players, and competing in the Big East means that the Huskies will have to be near-flawless every night.

Obviously, that didn't happen in 2010-2011 and UConn won a national title. The difference, to paraphrase Rick Pitino: Kemba ain't walkin' through that door.