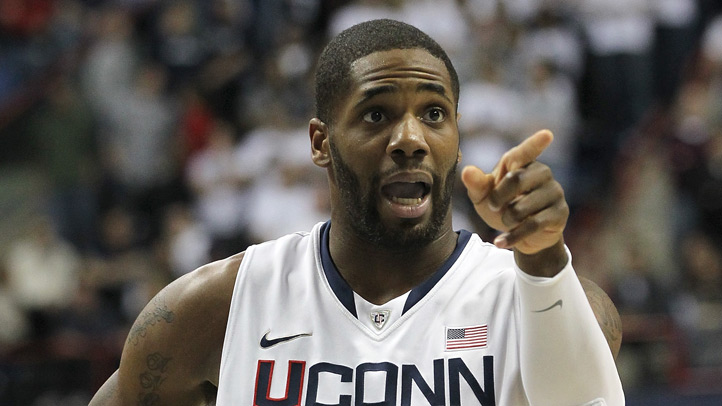 Now that Alex Oriakhi is headed out the proverbial door at UConn, the next question naturally becomes: where does he end up? At 6-9, 240 pounds, he'll be in demand, even if he didn't live up to expectations during his junior season with the Huskies.

After playing more than 29 minutes and scoring 9.6 points per game during UConn's championship run in 2010-11, Oriakhi averaged a career-low 21.5 minutes this season to go along with 6.7 points per game. He also had career lows in blocks, steals and rebounds. Still, he'll have little trouble finding a new home as he considers his options. And unlike the typical transfer process from one Division I school to another, because UConn is currently ineligible for the 2013 NCAA Tournament, Oriakhi will not have to sit out a year before playing again. The only restriction is that he can't play for another Big East school.

As for possible landing spots, the Hartford Courant's Dom Amore has the latest. In his daily mailbag, Amore answers a question from a reader who wonders if Oriakhi is headed for Duke:
An experienced big man with solid academics would be welcome for many teams, including Duke, with great aspirations for 2012-13.

One would think, if he is leaving UConn because they could be ineligible for The NCAA Tournament in 2013, he would want to go to a school that is almost assured of making it. If so, that would leave out mid-majors. Duke was mentioned in an ESPN report late last week. Missouri came up in a conversation I had over the weekend with a source.

Places like Michigan State, Kentucky, North Carolina, Florida State, would seem to be in the running. … This could be a long process, and it has just begun. It will begin in earnest when Oriakhi gets his release from UConn, and will pick up speed if UConn does learn of its tournament eligibility fate this week."
In less depressing news: sophomore guard Jeremy Lamb has been named honorable mention All-American by the Associated Press.

Lamb, who led the Huskies in scoring with more than 17 points a game, was a preseason All-American. There's a decent chance Lamb leaves UConn to enter the NBA Draft but he's currently "still weighing all his options." There's a chance the Huskies could be without Oriakhi, Lamb and Andre Drummond next season.