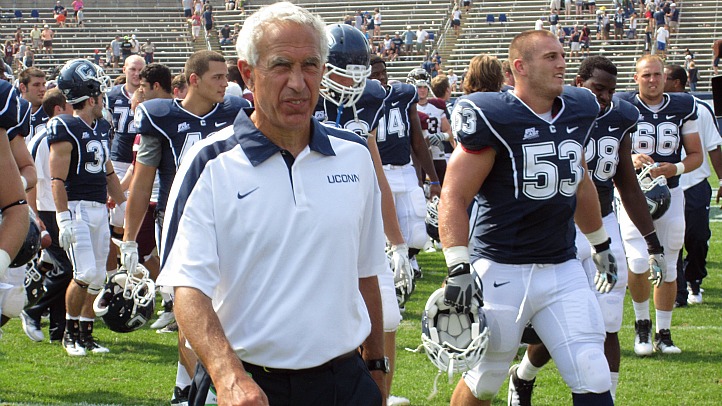 A year ago, the Blue-White game was a mess. Not just on the field where the offense struggled against a much better defense, but the weather didn't cooperate, either. Now, 12 months later and everyone more comfortable in head coach Paul Pasqualoni's system, things were much, much smoother. So smooth, in fact, that all the questions about quarterback have suddenly disappeared, even if temporarily.

The Huskies have five quarterbacks competing for the starting job with Johnny McEntee the early favorite if for no other reason that he started the majority of games last season. But Scott McCummings and Michael Nebrich, both sophomores, are in the mix, as is Gatorade Connecticut Player of the Year (two times!) Casey Cochran and junior college transfer Chandler Whitmer.

After after Saturday's Blue-White game, it wasn't the veteran McEntee or the upstart Cochran that set himself apart. It was Whitmer, the 6-2, 190-pounder who threw for more than 3,000 yards and 25 touchdowns last season at Butler (Kansas) Community College.

On Saturday, Whitmer, playing for the White team, was 18 of 27 for 187 yards, with two touchdowns and an interception. The Blue team, comprised of Cochran and McEntee, combined to complete 9 of 29 passes for 84 yards, no touchdowns and an interception.

"I think probably from a media standpoint Chandler had a productive day, he really did," Pasqualoni said Saturday via the Hartford Courant. "He made some good decisions. There were a couple of decisions in particular I know he would like to have back. ... There were some people open. He got the ball to them. He threw it fairly accurately. ... His team won so I'm sure he's feeling pretty good right now."

Whitmer also has something that three of the other Huskies QBs don't: experience.

"Chandler showed he's probably a little bit older and has been in games," Pasqualoni said. "Overall, each of them, I thought, made a play here and there. Sometimes it depends on who the receiver and offensive line is in with them. There's no way you can accurately evaluate it all until you go in and grade the film."

But just like last spring, Pasqualoni isn't rushing into anything. There's plenty of time -- and practice reps -- before August and there's no reason to name a starter based off a spring game that will be forgotten in a few days.

"They've got a big summer and a big off-season program ahead of them," he said of his quarterbacks. "This is not the time, obviously. There is no reason why we would do that now. I want to get back into preseason camp [in August] and start the whole process again. Once we get into camp, we'll try to make a decision as soon as we can."

These are good problems to have.