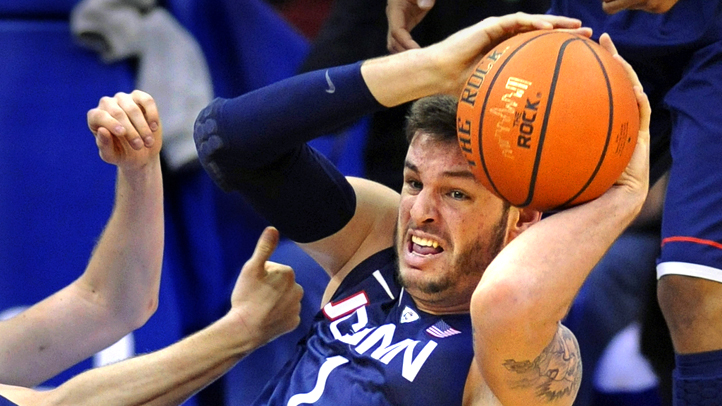 It's been more than a month since UConn's Enosch Wolf was arrested for a domestic altercation with his girlfriend. On Wednesday, the 7-1 center from Germany had his case continued with his next appearance scheduled for April 24 in Rockville Superior Court.
"Enosch is in compliance with [court-ordered treatment and counseling]," Rob Britt, Wolf's attorney, said via the Hartford Courant. "And he will stay in compliance."
Wolf was suspended indefinitely from the team after the incident that describes the Huskies big man as having "been in a physical altercation with a female resident of the building."
Wolf then refused to leave the victim's apartment inside the LaFlesche Building on campus, according to the police report. He grabbed her hair, pushed her head, and knocked her glasses off her face with his hand.
Wolf appeared in court two days after the arrest and briefly addressed reports.
"I'm sorry and apologize for what I put the university through, what I put my coaches through, my teammates, my family."
At the time, coach Kevin Ollie issued the following statement: "We are aware of the situation concerning Enosch and we are taking the matter very seriously. He has been suspended from the team indefinitely, until the legal and university process is finalized."
Meanwhile, Britt said Wednesday that his client's focus "remains in compliance with orders of the court regarding treatment and counseling," Britt said, "and on his classes and upcoming exams."