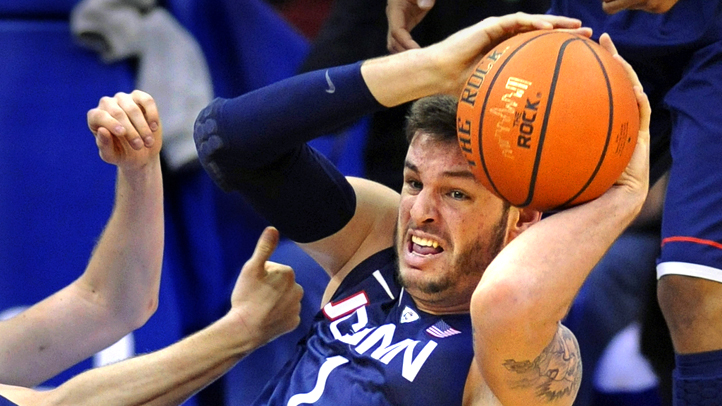 Ever since Lasan Kromah joined the Huskies earlier this summer, Enosch Wolf's status with the team has been in doubt. That's because coach Kevin Ollie gave Kromah Wolf's scholarship. And while Wolf, who was arrested in February after an altercation with a female student that led to a suspension from the team, is welcome to walk on, tuition is more than 45,000 a year.

Earlier this week, the Hartford Courant's Dom Amore added this update:
It is all but certain that Enosch Wolf will not come to back to UConn to try to play as a walk on. The 7-foot-1 center, who was taken off scholarship following the legal and campus review process stemming from his arrest last February, tweeted this week "excited to begin a new chapter." …

In brief communication, Wolf told me he cannot say what that 'new chapter' is just yet, but will elaborate soon. Speculation: He will sign a pro contract in Germany. If he were to transfer to another school, he'd almost certainly have to sit out a year.
Now, via Sportnando.com, it looks like Wolf won't be returning to Storrs -- because he has signed to play in Germany.

"Telekom Baskets Bonn agreed to terms with Enosch Wolf, a source told Sportando. The German rookie spent his college career with Connecticut averaging 3.4ppg and 3.4rpg in his last season in NCAA. The official announcement is expected soon."

Back in June, Ollie was asked about Wolf's future at UConn.

"We're waiting for his decision, what he's going to do. He has options of transferring, getting a pro contract or coming back to our school -- without having a scholarship available. We'll just wait and see what he does and we'll support him all the way. He's made tremendous strides doing the different programs that he went through. Hopefully when he's back in that situation he reacts in a different way and it's a different outcome. I think it will be. He's a tremendous young man."

The Huskies have four recruits -- three freshmen (Kentan Facey, Terrence Samuel, Amida Brimah) and one transfer (Kromah) -- joining the program this summer, and the reality is that Wolf would likely see less playing time in 2013-14. So while losing Wolf will hurt UConn's frontcourt depth, it will allow younger players a chance to get on the floor.