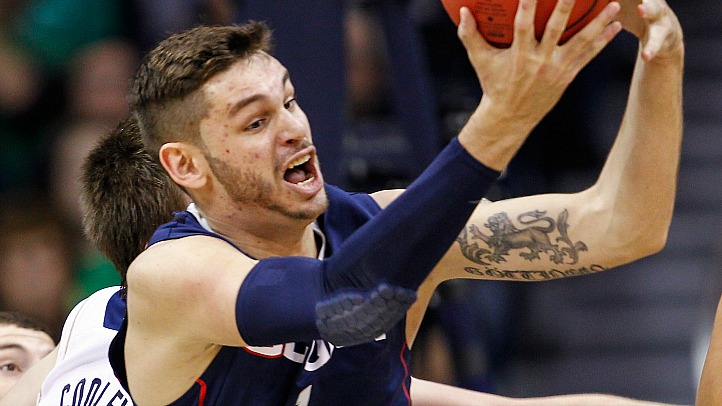 Center Enosch Wolf has been suspended indefinitely from the UConn basketball team following an arrest Monday that involved a physical altercation with a female student.

Officially, Wolf was charged with burglary in the third degree, criminal trespass in the first degree and disorderly conduct, and after officers arrived on the scene, according to the police, "Wolf refused to leave the apartment when he was asked to and grabbed the hair of the victim and pushed her head. Wolf also knocked the glasses off of the victim's face with his hand. Wolf continued to remain in the apartment and was subsequently arrested by police."

Wolf is set to appear in court Wednesday, the same day his teammates face sixth-ranked Syracuse. And while Wolf may not be a starter, the 7-1 junior provided the Huskies a much-needed presence in the paint, something they will miss during his absence.

After seeing just 36 minutes of action during his first two years, Wolf has averaged nearly 14 minutes a game this season to go along with 3.4 points, 3.4 rebounds and 0.9 blocks. Wolf was also used to spell Tyler Olander; now that duty falls to freshman Phil Nolan, who has yet to score in a conference game.

And while stats without context can be misleading, this nugget from the Connecticut News' Kevin Duffy is interesting nonetheless:
In 10 Big East games, Wolf and Olander have never played together. UConn has outscored Big East opponents 258-217 with Wolf at center (a +41 margin). With Olander at center, the Huskies are up 403-294 — or +9 — in conference play.
First-year coach Kevin Ollie has done well to recast the Huskies as something other than the team that was banned from the NCAA Tournament for substandard academics. The "us vs. them" mentality that hinges on the "no excuses" mantra has led to a 16-6 record and UConn outpacing the skeptics' expectations. But Wolf's arrest is not only a setback on the court for the Huskies, it's another black mark on a program trying to reinvent itself.