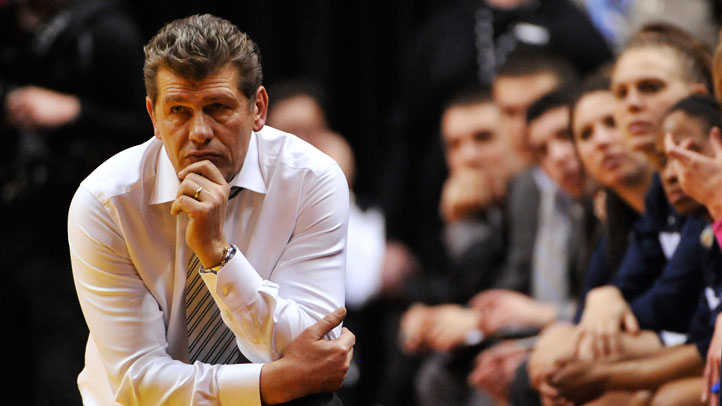 The UConn women last played on December 29, a late Christmas present in the form of a 93-40 victory over Fairfield. Now the Huskies return to Big East play, hosting West Virginia Wednesday night at the XL Center. It will mark the first of four straight conference games, including a Final-Four rematch on national television Saturday afternoon against third-ranked Notre Dame.

For now, the No. 2 Huskies (11-1, 1-0) are focused on the Mountaineeers, a team known for its tenacious defense.

"The first thing is getting players to buy into playing defense," WVU coach Mike Carey said according to the Hartford Courant's John Altavilla. "It's a mentality. You always hear coaches say how they want their teams to play defense, but we stress it here every day."

"We work on it a lot, break it down and expect our players to play defense. Our players understand that if they want to get into the game they are going to have to play defense. That's just the way we do things here. We believe we are a good defensive team, not a great one. We still have a long way to go."

West Virginia (10-1, 1-0) comes into Wednesday night on a three-game winning streak, but the Huskies know something about defense, too. Details courtesy of Altavilla:
The Mountaineers hold opponents to 45.0 points (third nationally) and 29.2 percent from the floor (third nationally). They hold a 26.7 scoring margin over 13 opponents (seventh nationally).

UConn's scoring margin (39.3) leads the nation as does its scoring defense (41.4) and field goal defense (28.5).
In most of the Huskies' early season games, they've been able to control the paint because of Stefanie Dolson's presence. The Mountaineers have Asya Bussie (6-4) and Ayana Dunning (6-3) to help neutralize that.

"We've always taken a tremendous amount of pride in defense and it's something we've worked awfully hard on over the years," said coach Geno Auriemma. "We have a lot of interchangeable parts on this team, which has perhaps allowed us to do some things that we haven't been able to do in the past. But our willingness to want to be a good defensive team and the fact our players buy into playing it because it's become somewhat of our identity. It's a matter of us doing what we've hopefully always done since I've been at UConn."

Even in the games against ranked opponents, UConn has been stingy defensively. They allowed 58 points to Stanford in a November 21 win; 51 points to defending national champions Texas A&M in early December, and 68 points to top-ranked Baylor a few weeks later in their only loss of the season.

"If you have a certain style or standard of play, and you want to adhere to it with today's players coming out of high school, you will have a tremendously hard time with it," Auriemma said. "It's hard to get the same result. But defense is easy to teach. What you can't teach is attitude."

Through 12 games, the Huskies appear to have the attitude necessary, although we suspect that Auriemma thinks his team has plenty of room to improve. And that will start against WVU Wednesday.