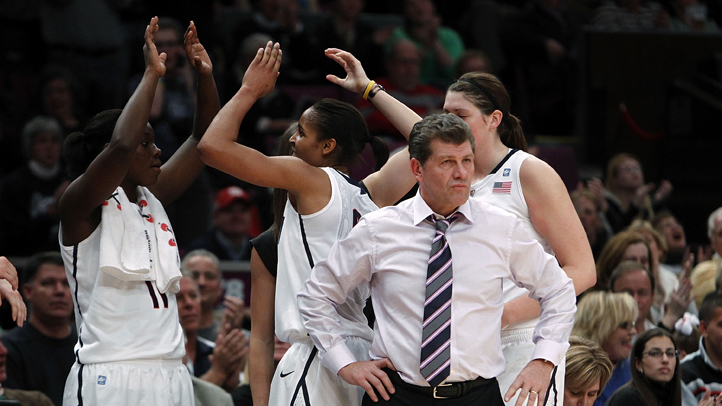 The UConn women continue to roll through Italy, both literally and figuratively. They're traveling the country, seeing the sites, and every few days dominating opponents on the basketball court. On Monday in Florence, they blew the doors off TDT Slammers of Germany, 112-36.

The team was originally scheduled to play the Nigerian National Team but a last minute change meant that the Huskies would face Nigeria Wednesday. But it didn't matter who took the court, UConn continued to play like, well, one of the best college basketball teams on the planet.

Sophomore center Stefanie Dolson dominated the Huskies' first two European wins, and freshman Kaleena Mosqueda-Lewis added 22 points in Friday's victory. Head coach Geno Auriemma said before the trip that he hopes the experience helps bring the team closer together -- especially the new faces -- in preparation for the 2011-12 season.

So far, so good on that front. Mosqueda-Lewis seems like an old hand at this and she hasn't yet played in a Huskies regular-season game. She led UConn with 18 points against TDT Slammers, including 4 of 7 from behind the arc. Her presence not only opens things up under the basket, it means more perimeter opportunities for senior Tiffany Hayes.

And that's just what happened Monday. Hayes scored 17 points on 7-of-13 shooting and was one rebound shy of a double-double. Sophomore point guard Bria Hartley added 16 points, nine assists, seven rebounds and five steals, and freshman Brianna Banks scored 11 points for the second game in a row.

***

In other women's basketball news, three players have made the 2011-12 Preseason Wade Watch List as announced by the Women's Basketball Coaches Association: Dolson, Hartley and Hayes.

According to the press release, the State Farm Wade Trophy, now in it's 35th year, is named after the late, legendary three-time national champion Delta State University coach, Lily Margaret Wade. The prestigious award, regarded as "The Heisman of Women's Basketball," is presented annually to the NCAA Division I Player of the Year by the National Association of Girls and Women in Sport (NAGWS) and the WBCA.

This is the third year in a row Hayes has made the list. In addition to UConn, Notre Dame was the only other school to place three players on the watch list, and the Big East had 12 names in total.

The release adds that "The 25-member preseason list is composed of top NCAA Division I student-athletes from 17 institutions and seven conferences who best embody Wade's spirit. A committee of coaches, administrators and media from across the United States compiled the list using the following criteria: game and season statistics, leadership, character, effect on their team and overall playing ability."