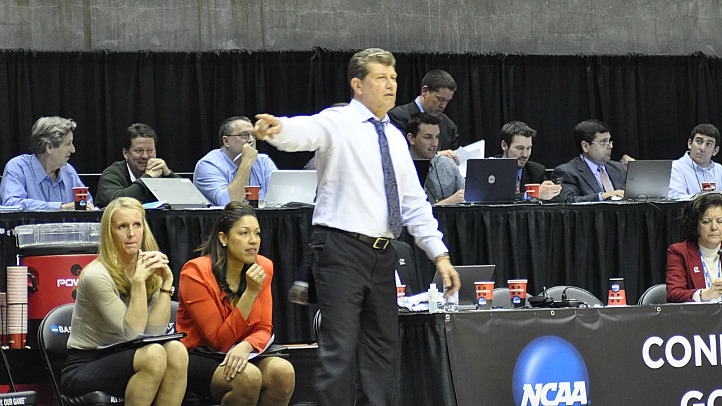 Not surprisingly, Stanford (6-0) held on to the No. 1 ranking in this week's Associated Press Top 25 with the Huskies (5-0) second.

The Cardinal entered the season ranked fourth but a win over then-No. 1 Baylor catapulted them to the top of the AP poll. The victory snapped Baylor's 42-game winning streak and dropped them to third in the rankings. The Bears are the only team in the top eight with a loss.

UConn plays Stanford on Dec. 29 in Palo Alto, California, and they host Baylor on February 18. For now, though, the Huskies are focused on the five home games on the schedule before the Cardinal matchup. First up: Colgate on Wednesday, followed by Maryland (next Monday), Penn State (next Thursday), and Oakland and Hartford later in the month.

The team will be without sophomore forward Kaleena Mosqueda Lewis this week. She suffered a concussion against Purdue and missed Monday's practice.

"She probably won't practice today and definitely won't play tomorrow," Auriemma said Tuesday via SNY.com. "Beyond that it's a matter of when she passes the test (to be cleared to play). With these things now you'd rather err on the side of caution and that's what we are going to do. It wouldn't matter who we were playing."

Mosqueda-Lewis is the Huskies' second-leading scorer (16.2 points per game) behind freshman Breanna Stewart (17.8).

Speaking of Stewart, who was named Big East freshman of the week earlier this month, the conference also named her to its honor roll a week after she dominated in the U.S. Virgin Islands. Stewart averaged 19 points and almost seven rebounds a game as the Huskies went 3-0.

On the men's side, Kevin Ollie's bunch dropped out of the Top 25 after a brief showing following their season-opening win over Michigan State. Still, at 5-1 the team has exceeded expectations. A victory over New Hampshire this Thursday likely won't be enough to get them back in the poll, but if they can beat N.C. State in Madison Square Garden on December 4, they'll be right back in the conversation.

Usually, midseason polls don't mean much; it's all about playing well leading up to the conference and NCAA tournaments. But this year is different; sanctions will keep UConn out of the postseason so any recognition is noteworthy, especially for such a young team.